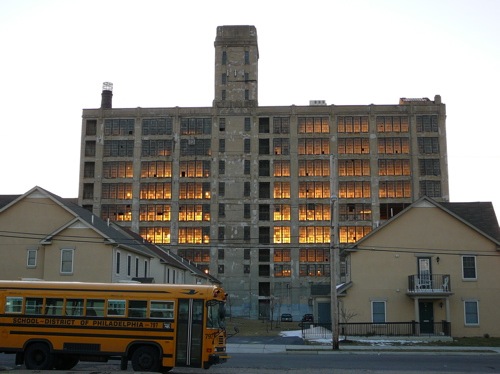 Sunlight enlivens the abandoned Quaker Storage building, 9th & Poplar Streets.
New twin homes have replaced the demolished "Richard Allen projects."
© Torben Jenk (2007).
NORTH PHILADELPHIA

© Carmen A. Weber, Irving Kosmin, and Muriel Kirkpatrick, Workshop of the World (Oliver Evans Press, 1990).

North Philadelphia as considered here is a vast area ringed by the older and more defined neighborhoods of the city such as Germantown, Fishtown, Kensington, the Northern Liberties, and Center City. Its growth is closely linked to, and developed out of, that of West Kensington and the Northern Liberties.

North Philadelphia consisted mainly of farms and open area in the eighteenth century, also encompassing several large estates such as Bush Hill to the west and Fair Hill to the east. In the early to mid-1800s industrial development spread into West Kensington and North Philadelphia from the more settled areas of Center City south of Vine Street and the Northern Liberties to the east. Initial development was heaviest in the Spring Garden District, east of Broad, which by 1809 "was sufficiently built up to be afforded the same legal protection from hazardous manufactories as the city enjoyed." 1 The location near the Schuylkill River of Steven Girard's College, the Eastern State Penitentiary, and the Preston Retreat, a maternity home for indigent women, stimulated travel west and north along the Ridge Pike. After the 1830s railroads had the greatest effect on industrial growth in North Philadelphia.

Many competing business interests directed the establishment of railroad lines in Philadelphia, and there were difficulties connecting the city-run and state-run lines. Initial state-financed lines, such as the Columbia Railroad (later Philadelphia and Reading), came from the west and were directed to Broad and Vine Streets, which in the 1830s was still a number of blocks west of the city proper. The tracks of the Philadelphia and Reading Railroad ran along Pennsylvania Avenue; a portion of the bed had been constructed in the late 1700s for the Delaware and Schuylkill Canal, which was never completed. The Richmond and Reading Railroad connected with the Philadelphia and Reading

Railroad in northwest Philadelphia, crossing the Schuylkill River near the Falls. The Philadelphia and Reading also had a spur running northwest to Norristown. Numerous Philadelphia and Reading facilities were located in North Philadelphia, among them a car and machine repair shop and engine house at 9th and Green Streets; and an engine house, turntable, and yard at 19th Street and Pennsylvania Avenue. The Philadelphia and Reading Railroad had their freight depot on Broad Street between Noble and Callowhill Streets. 2

Oliver Evans helped bring steam power to Philadelphia, but it was Matthias W. Baldwin who was credited with bringing the railroad steam engine to America. 3 In 1831, copying plans based on English models, he built a miniature working engine which hauled two cars and four persons; it ran around a track in Peale's Museum. 4 The following year, Baldwin's full-sized "Old Ironsides", one of the first American made locomotives, ran through North Philadelphia along the horsecar track of the Philadelphia and Germantown Railroad. In 1835 Baldwin moved his locomotive works from Center City to Broad and Hamilton Streets, later expanding west. By 1884 the plant covered nine acres, employed up to 3,000 people, and produced over 500 different sizes or styles of locomotives. 5 In 1914 the Baldwin Works had expanded to 38 buildings covering 17 acres of land; 19,000 employees produced 2,500 locomotives. Hampered by lack of space to further enlarge, Baldwin moved in 1925 to its Eddystone plant where it had acquired 184 acres in 1906. The Baldwin Works in North Philadelphia were demolished in 1937.

By the 1850s this small industrial enclave in the Spring Garden area along the Philadelphia and Reading Railroad included Hoopes and Townsend, who manufactured nuts, bolts, and rivets in a plant on Buttonwood Street; Bancroft and Seller (later known as William Sellers and Company) with their machine shops along Pennsylvania Avenue between 16th and 17th Streets; the industrial works of Bement and Dougherty at 20th and Callowhill Streets; and the Pennsylvania Soap-Works on Callowhill Street, which became the largest soap manufactory in Pennsylvania by the 1880s. 6 Companies locating in this area tended either to make products used by the railroads or benefitted from the coal delivered here from upstate.

The remainder of North Philadelphia's industry developed essentially from the southeast to the northwest along the Philadelphia and Germantown Railroad. In 1862 several brick yards, a "malleable iron works", a malt house, and woolen factory were located along side the railroad. Just below Diamond Street a "Gasometer" stood on property still owned today by the Philadelphia Gas Works. 7 Rowhouses clustered on both sides of the track, with the area to the east blending into the combined residential and industrial neighborhood of Kensington. By the 1870s, the industries along the railroad had multiplied to include numerous lumber yards, coal yards, lime yards, iron foundries, planing mills, and several wagon works, many with their own feeder lines. Other factories included a boiler works, a clay works, a terra cotta pipe works, and a fire brick and stove lining facility. Several small industries, such as a woolen mill, a coffin factory, a soap factory, and a bath tub manufactory filled in both east and west towards Kensington Avenue and Broad Street. 8 Numerous textile firms, many of them producing carpet, were located on both sides of Lehigh Avenue.

The neighborhood was densely built by the 1890s, with a mix of residential housing and a variety of factories, still mainly clustered along the railroads stretching to Erie Avenue. 9 During the same period, wealthier residences and cultural institutions, such as a variety of churches, Temple University, La Salle College, and Dropsie College, spread along Broad Street north of Girard Avenue, where the Peter A. B. Widener mansion was located. Across the street the William Elkins mansion has been replaced by a McDonald's. Widener and Elkins, after building individual fortunes, together acquired and combined the city's numerous street railway lines into the Philadelphia Rapid Transit System, and they were instrumental in establishing several planned residential areas in North Philadelphia. Alfred Burk, millionaire leather manufacturer, also chose to establish his home in this area, rather than in the more fashionable Rittenhouse Square; 10 his mansion is at Broad and Jefferson. An opera house was located on the corner of Broad and Montgomery, later converted to Wilkie Buick, which was demolished last year. After the turn of the century Oscar Hammerstein built another opera house, "The Met," at Broad and Poplar, which still stands.

Further to the west beyond Girard College was a nine block area, situated adjacent to the Philadelphia and Reading Railroad, that became Brewerytown. Although beer was manufactured in many areas of the city, between the mid 1850s and 1920 this neighborhood was reputedly the densest concentration of breweries in Pennsylvania. 11 While numerous companies were formed and vanished in a short period of time, the Louis Bergdoll Brewing Company, the Bergner and Engel breweries, the Frederick Poth Brewery, and the Arnholdt and Schaefer Brewing Company were among the better known and enduring of Brewerytown. This predominantly German neighborhood featured bars, concert halls, and beer gardens selling lager to its inhabitants. The bulk of this industry was destroyed by Prohibition in the 1920s, with very few breweries returning to operation in the neighborhood after its repeal.

During the twentieth century growth continued above Erie Avenue whereas the areas closer to Center City were redeveloped. The automobile industry appeared on Broad Street between Vine Street and Fairmount Avenue, forming a "Gasoline Alley." Carriage and wagon works were replaced with the large factories of Packard, Cadillac, Ford, and Studebaker. By 1925 auto companies and machine shops serving them were located at Broad and Lehigh as well. 12 It was not until later that this intersection became designated "Garment Square" because of its association with Botany 500 and Queen Casuals.

A few blocks north of this intersection the Pennsylvania and Reading railroad lines cross; in 1892 there was a "Junction Hotel" and stables on the north east corner of Broad and Lehigh. A number of industries developed along Glenwood Avenue which fronted on the Pennsylvania Railroad as it ran out to the north east from the yards behind the Thirtieth Street Station. Some of these firms, such as S.L. Allen who originated the Flexible Flyer sled, are still in business under different ownership, others like Nabisco (National Biscuit Company), stayed in the Philadelphia area after they moved from buildings located in North Philadelphia. Other large companies, such as Schaum and Uhlinger and Philips, Townsend, are no longer in business, their buildings have been reutilized by a diversity of changing firms up to the present day.

1 Richard J. Webster, Philadelphia Preserved, A Catalog of the Historic American Building Survey, (Philadelphia, 1976), p. 284.
2 Thomas Morrison, A Correct Map of the City of Philadelphia, (Philadelphia, 1834); see also Barnes.
3 Thomas J. Scharf and Thompson Westcott, History of Philadelphia, 1609-1884, (Philadelphia, 1884), Vol. 3, p. 2555.
4 Scharf and Westcott, pp. 2255-6.
5 Scharf and Westcott, pp. 2257-58.
6 Webster, p. 287.
7 Samuel Smedley, Smedley's Atlas of the City of Philadelphia, (Philadelphia, 1862).
8 G. M. Hopkins, City Atlas of Philadelphia by Wards, Volume 6, (Philadelphia, 1875).
9 George W. Baist, Property Atlas of the City and County of Philadelphia, Pennsylvania, (Philadelphia, 1895).
10 Webster, pg. 290.
11 R. Dochter, "Brewerytown, Philadelphia," c.1980, (copy on file, Philadelphia Historical Commission).
12 George W. Bromley, Atlas of the City of Philadelphia (North Philadelphia), Lehigh to Wingohocking, (Philadelphia, 1925).