NORTHERN LIBERTIES
© Roy E. Goodman and David G. Orr, Ph.D., Workshop of the World (Oliver Evans Press, 1990).

The word "Liberties" refers to a land policy of William Penn common in Britain and her colonies. The "first purchasers" of large tracts of land were to receive a bonus of 2 percent of their acreage, to be allotted to them in the "great towne" of Philadelphia. However, when the city bounds were fixed at 1280 acres it was necessary to make grants of free or liberty lands in the surrounding country. On account of greater accessibility of the Northern Liberties, compared with the western areas, allotments were 8 acres per 500 acres purchased elsewhere.

Naturally the rural landscape was an ideal setting for those processes and businesses that were less desirable for a more urban setting. Tanneries, claypits, dyeworks, brickyards, and the like preceded the factories of nineteenth century industrialization. The district of the Northern Liberties as it is known today is the area lying between the west side of 6th Street and the Delaware River, and between Vine Street and the Cohocksink Creek (roughly Girard Avenue).

Governor's Mill, constructed in 1700, in the vicinity of 2nd and 3rd Streets near Girard (which had not yet been built), was an early grist mill. The Cohocksink Creek provided water power and imported English machinery processed the corn brought to the mill. However, its distance from the city made for an unprofitable situation. Thomas Masters purchased the operation in 1714. Interestingly, Masters' wife Sarah (Sybilla) was granted what has been said to be the first American patent for the process to create "Tuscorora Rice" a cleaned and cured form of corn. Scull and Heap's map of 1750 notes the existence of the mill. Throughout the eighteenth century and into the nineteenth century, a variety of items were processed there. By 1760, chocolate and mustard were being ground. Weaving machinery to handle flax and hemp was installed in 1792.

Shortly, before 1803, a calico printing works was established at the site, whose name had already been changed to the Globe Mill. Ownership of the mill had changed many times through the years along with the appearance of the plant. It was to be become the largest textile mill in Pennsylvania until the middle of the nineteenth century. An 1832 account acknowledges the employment of 114 men and women. The male adults averaged a weekly wage of $8.50, while their female counterparts received $2.62 in compensation. The 200 children laboring at Globe were able to contribute $1.37 to their families' well-being. Employees worked in three buildings. Two steam engines and a water wheel supplied the muscle to power 47 looms set to weave saddle girths. From 518,000 pounds of cotton, 9,126 spindles of thread were produced. According to the account, apprentices (generally twelve in number) received one-quarter of their annual schooling from the mill. The majority of the workers lived in the Northern Liberties.

Among the ranks of early Northern Liberties innovators was John Behrent, Jr. (a woodworker and joiner located at 3rd and Brown Streets), who developed an "extraordinary instrument by the name of pianoforte." Built in the manner of a harpsichord in 1775, Behrent's creation is believed to have been the first piano constructed in America. No examples or sketches are extant.

John Harrison's chemical works at 3rd and Green Streets produced the first significant batches of American-made sulfuric acid in 1792, as well as America's first strychnine. By 1807, a sizable lead chamber plant had been erected for chemical processes. Fire in 1809 destroyed the plant and a fourteen-acre plot in Kensington soon replaced the Northern Liberties operation. However, Harrison's technical discoveries greatly contributed to the advancement and growth of the American chemical industry.

Oliver Evans, noted inventor and steam engine builder, lived at 437 North 2nd Street in 1793, and at 215 North 2nd Street in 1796. Evan's neighbor was John Fitch, owner and builder of the famous steam boat, who occupied 462 North 2nd Street in 1791. 1

Henry Deringer, the famous firearms maker, lived on North Front Street and then on Tamarind (now North Hope) between the 100 block of Green and Coates streets (now Fairmount Avenue). He lived and worked in the neighborhood from 1814-1868. His popular pocket pistol looms large in American gun lore. The "Deringer" was widely sold in the South and in California during the era of the Gold Rush. It developed from an 1831 prototype percussion pistol. Supposedly, hunters and farmers traveled down the Delaware River to visit his shop and purchase guns and rifles. Deringer's larger weapons were supplied to the U.S. Government through the earliest Federal arms contract made. In 1808, along with several other U.S. arms manufacturers, Federal arsenals were being stocked with these weapons.

Keeping with this patriotic spirit, in 1791 William Peter Sprague produced the carpet that adorned the U.S. Senate Chamber in Congress Hall until 1800. An Englishman trained in the Axminster technique of handknotting carpets, Sprague moved from 458 North 2nd Street in 1793, to 422 North 3rd Street which was the 'first brick house above Brown Street' according to the 1793 Philadelphia City Directory. The diversity of the Northern Liberties and an excellent account of Sprague, his carpet and his business is described by Susan Anderson 2 :

The neighborhood was not a fashionable one, Wealthier and more influential Philadelphia families chose to live south of High Street, (Market), closer to the State House and other public buildings. Rather it was a center for artisans and small businessmen who lived along the unpaved muddy streets in small crowded houses and in little 'courts' and alleys behind the numbered streets between Third Street, and the Delaware River.

In the vicinity of Sprague's residences were laborers, coopers, tanners, ferrymen and mariners, clothweavers and stockingweavers, painters and wheelwrights. There were two 'doctors of physic' on Second Street; a mid-wife and a 'druggist' lived nearby. The schoolteachers lived cheek to jowl with boatbuilders, starchmakers, and seamstresses, and there was even a sugar refinery on Coates Street near Third. When the Sprague family was living on Second Street in 1790, there were two taverns within sight, and an inn directly next door, to add to the busy neighborhood.

It was in reality a complete small community, a microcosm of industriousness separated and rather isolated from the rest of Philadelphia. To the north side of Peggs Run was a broad, tidewater marsh where sportsmen hunted birds. It flooded frequently and a boat was sometimes required to get across to the business establishments of 'Camptown' or 'Campington,' as it was sometimes called from the barracks built by the British on North Third Street before the Revolution. 3

Sprague's Philadelphia Carpet Manufactory, the first true commercial carpet works in America, relocated several times, although it remained in the Northern Liberties.

Thomas Haig and his family produced a variety of earthenware goods at their 4th Street location above Poplar. Decorative examples of Haig's highly respected work can be found at the Philadelphia Museum of Art and at the Metropolitan Museum of Art in New York City. From 1844 to 1870 at 545 North 2nd Street (old numbering) the Haigs manufactured non-decorative ceramics such as cooking furnaces, chimney flues and tops, drain, sewer and water pipes, and stoneware for chemical and pharmaceutical uses.

Philadelphia, in 1859, could boast of over two dozen processors of hides, with most of these tanneries located between Arch Street and Girard Avenue, Front Street and Fourth Street. The Adams and Keen Company, at 934 St. John (now American) Street, share in the City's premier position as the largest pre-Civil War producer of leather. Morocco, a fine grade of leather obtained from goatskin tanned with sumac, was an especially prized item offered by Adams and Keen. The oak necessary in the tanning process, the goatskins imported from India, and the transport of hides and leather to other urban centers depended on the Delaware corridor's excellent port and rail complex.

The most notable and best documented establishment in the neighborhood was Henry Disston's 'Saw Manufactory' at Front and Laurel Streets, described by Bishop as:

...the most extensive in the United States, and probably the largest in the world. All the operations incidental to the manufacture of saws of all kinds are carried on here (including the steel making), on a scale of unsurpassed magnitude, and not only saws, but all the minor constituent parts and adjuncts, from a saw screw to a saw file.

The buildings on Laurel Street cover two hundred and fifty thousand square feet of ground (eventually covering eight acres), and comprise a rolling mill, two hundred and forty by seventy-five feet; a warehouse; a machine shop and main saw factory, two hundred by one hundred feet, three stories in height; a wood working department, four stories high; a blacksmith's, hardening, and file shop and brass foundry; and sundry other buildings of less dimensions. In the lumber department, a stock of three hundred thousand feet of beech and apple wood for saw handles, is at all times in process of seasoning; on the north side of Haydock Street, another building fifty by two hundred and fifty feet, three stories high, in which butcher knives and trowels and reaping knives, etc., are made. 4

The marvels of automation are also highlighted:

To tool the five dozen Wood-Saws in an hour, is rapid work for the best mechanic in the world; Mr. Disston has machinery by which one man can toothe thirty dozen in the same time. He can toothe perfectly a sixty-inch Circular Saw in two minutes, which by the old process would require the labor of one man two hours. The tempering process, which is patented, is most complete, and saves at least one-third the labor ordinarily required, or in other words sixty men can do as much work as one hundred formerly did. The apparatus for grinding is novel...it includes machinery that will grind both sides of a saw at one operation, and long as well as short saws. We believe that the machines in the Grinding Department are the only ones of the kind in the world. Mr. Disston has also a new process for stiffening saw blades, or in other words, refining the grain after tempering by repeated blows of a steam hammer. In the Rolling Mill, there are forty melting holes for making Cast Steel, and three sets of rolls, the largest being capable of turning out a saw plate sixty-four inches in diameter. This mill gives its proprietor the ability to fill an order for any saw, however, extraordinary the size, in a few days, that would otherwise have required months. The steel is made from the best brands of Swedish and Norway Iron. 5

The Northern Liberties industrial mix remained as diversified from the 1850s into the twentieth century as it had been during the earlier era of burgeoning enterprise.

Breweries, paint and chemical works, tanneries, iron and stove foundries, sugar refineries, and tool factories were among the most conspicuous operations located in the Delaware River corridor. Northern Liberties' ideal location, close to the commercial heart of Philadelphia and Camden in tandem with proximity to river and rail services represents the major factor that transformed the area from just an "industrial community" into the central conveyance link for rapidly expanding factories. Delaware River sites benefited most from the rail network; however, coal and other goods were tied into the port's rail lines from the Schuylkill River as well.

Railroads sold stock and floated loans like the 30-year note (due 1881) offered by the Pennsylvania Railroad to 'the Commissioners and Inhabitants of the Incorporated District of the Northern Liberties.' Yet, changes from a localized dependence on labor and components to a notion of a 'factory' as we perceive it did not arise quickly. For example, Charles Gilbert's Stove Manufactory occupied a three and one half story building on Second Street just north of Vine from 1844 to 1867. An 1846 print depicts a man and a woman laboring on the third floor of this well-stocked store. The 'Ofen Fabrik' signage would attract many area German residents.

In contrast, the Liberty Iron and Stove Works, on the south side of Brown Street between Fourth and Fifth Streets, operated from 1851 until 1915 under a variety of owners. Reputed to be the largest and most profitable factory of its kind in Philadelphia, Liberty produced an assortment of small cast iron stoves, as well as huge double oven models. Liberty's aggressive marketing efforts, when compared with Gilbert's "mom and pop" style, demonstrates how large factories emerged and "geared-up" to meet consumer demands far beyond the confines of Philadelphia. It also reflects how the ever more extensive rail, river, and road grid aided industrial growth.

In an editorial upon the death of Mr. Henry Disston the Public Ledger of March 18, 1878 said, in part: "...a born mechanic, in the comprehensive meaning of the term. He had the faculty of observing wherein a familiar tool or implement or machine was defective; the genius to devise the means to improve it, and the handicraft skill to do the manual work necessary to carry his own device into effect."

The need for plant expansion and a site away from the congested section of the city, sparked the purchase of a 350-acre tract in Tacony, a few miles northeast of Northern Liberties in 1872. The Laurel Street complex served as the office, packing and show rooms of the firm until 1907 when it became a paper box factory. It was demolished in 1968.

Although industrial activity flourished into the first third of the twentieth century, the need for tracts of land larger than those available in the Liberties impacted on the manufacturing sector. Many of the small and medium-sized operations remained, slowly succumbing to the economic turbulence of the Depression. Competition from newer and more efficient plants also affected area factories. The well-developed transport network remained an important factor for the economic health of Northern Liberties.

The completion of the Market-Frankford elevated line in 1918, with stations at Fairmount and Girard, made the transport of a large number of workers easier than ever before. The docks, owned by the Reading, Pennsylvania, and Baltimore and Ohio Railroads remained active through the 1960s until the sugar companies and other businesses were bought out or suffered bankruptcy.

The revitalization of the waterfront spearheaded by the Penn's Landing Complex promises a new future for the Delaware River corridor. Flanked by I-95, Northern Liberties and the river are experiencing a new vitality, albeit a phoenix rising from the ashes of bygone industrial glory.

1 At that time, the street addresses were numbered differently, with 201 North 2nd Street being just south of Vine Street, which was the southern boundary of what became the incorporated Northern Liberties in 1803.
2 Susan H. Anderson, The Most Splendid Carpet, (U.S. National Park Service, (Philadelphia, 1978)
3 Anderson, p. 33.
4 Bishop. A History of American Manufactures... " (Philadelphia, 1868).
5 Bishop. A History of American Manufactures... " (Philadelphia, 1868).

Aknowledgements: Thanks to Sara Jane Elk, who provided research data for the Burk Brothers Tannery Site. Thanks also to Frank Margeson, Photographer, American Philosophical Society Library, who provided the photograph of the first patent by Sybilla Masters.

Update May 2007 (by Torben Jenk):
Promoted by resident artists and developers as an "artist's community" from the 1980s on, some former industrial buildings offered working "studio" spaces at affordable rents. 601 Green (built 1892) and 340-344 Brown are among the few that still offer studio space for rent. 314 Brown Street, formerly G.H.P. Cigar, housed a gourmet food distributor and fourteen studios in 30,000 square feet of renovated space, but was converted to residential condominiums in 2006. The booming real estate market has made raw space too valuable, so Northern Liberties is gentrifying into a mostly residential community. The smallest and simplest unrenovated houses now sell for $200,000+, while newly constructed row houses sell for over $500,000. Condominiums under construction in modern twelve-story towers and in the soaring top floors of loft buildings are being marketed for $700,000 to $1,000,000.

The following industrial buildings have been converted for residential use, sometimes with studio or commercial space on the first floor: 305 Brown Street, 1151-1161 N. 3rd (formerly "Toilet Soaps," "Henry H. Collins," and, until recently, "Becker Furniture"), 1147 N. 4th (formerly "T&O Cos. Cigar Factory" and "General Cigar Co."), 1156 N. 3rd ("Eagle Iron Wks" c.1895, "Weinrich Garage" c.1924, later Quaker Japanning & Enameling), 425 Fairmount (Zimmermann Co. with its superb quartet of life-sized terra cotta bull's heads in the cornice), and 710-720 N. 5th (formerly "G.A. Bisler, Paper Boxes," c.1930). 926-928 N. 3rd are being redeveloped as this is written. The four-story building at 926 might survive but only the facade remains of the building at 928—a "facadectomy"—and their cojoined rears along Orianna Street all seemingly were part of a former "Furniture Mfy" (c.1895) and a manufacturer of "Paper Boxes" (c.1924). The Cooper Barrel warehouse on the 300 block of Brown Street was recently demolished to build new townhouses which have arisen atop their foundations.

Other old buildings serve industry.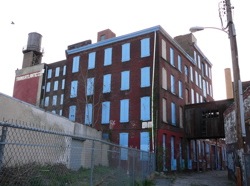 420-442 Fairmount Avenue is a curious collection of buildings linked visually by sky-blue boards covering the window openings. A huge buff yellow brick chimney remains and a metal bridge links the second floors across cobbled Wallace Street to the south (the finest surviving industrial streetscape in Northern Liberties). Parts of this complex seem to have been used by the "H.K. Wampole & Co., Drugs." It is now occupied by Trans-Atlantic Company, "established in 1951, as the leading and oldest stocking importer of high quality, commercial and residential grade builders, security and shelf hardware products, we represent many outstanding offshore manufacturers in the U.S.A."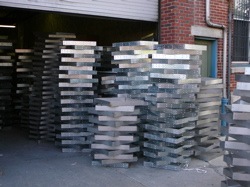 Aircon Filter, 437-441 Green Street, is a manufacturer of "custom- and standard-sized industrial air and grease filters for use in most kitchen exhaust systems, HVAC systems, paint booths, machinery, compressors, engines, industrial ventilation electronic cabinets, turbines, and many other applications; available in aluminum, galvanized steel, and stainless steel." Metal stampings are often stacked along the sidewalk. Color Reflections prints all sorts of graphic products from brochures to billboards, scrolling banners to wallpaper, trade show booths to vehicle wraps (that can cover a car or an entire bus).

Color Reflections' office and "dynamic digital imaging" studio is in the former Integrity Trust building, 400 Fairmount Avenue; they print the large stuff across the street at 413 Fairmount Avenue. Keystone Uniform Cap was started in 1918 and is now run by the third generation who, with their fifty employees, have been "an industry leader manufacturing customized uniform headwear for bus, train, airline & security companies, correctional institutions, as well as police and fire departments nationally." Keystone is at 801 N. Front Street. The J.T. Riley lumberyard (founded in 1905 somewhere in Center City) is at 330 W. Girard Avenue, having taken over the former "Howard Ketcham Lumber Yard" in the mid 20th century.

A few artists manufacture their work from industrial parts. Ray King, 835 N. 3rd Street, "designs, fabricates and assembles dynamic, high tech, light responsive sculptures that animate and enhance the architectural landscape...working with 3D computer models, to explore the interaction of spectral light and shadows with organic forms and shapes inspired by nature to create a dialogue with the sun." King cuts, finishes, and laminates slabs of metal and glass; often assembling the parts with stainless cable.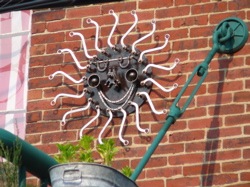 Leo Razzi "lives and works in a former tannery, former printing house, former ladder factory, former trucking company" at 1019 New Market Street, where he creates:
"pieces out of wrenches, drill bits, augers, truck parts, gears, chains, pipes, plate steel, electrical equipment, giant springs. Techniques involve a mix of welding, glass blowing, electrical work, plumbing, clay sculpting and woodworking. All of this metal and noise and flame and risk produce (or over-produce) extraordinary flower boxes, table lamps, formidable tree bollards, hanging racks, deck rails, a one-of-a-kind place to store your garden hose, place to sit, even if you're King Kong, a place to give your dog a drink, and things that at first glance have no purpose, but then do. Without formal art training Razzi doesn't know what to call his craft, but responds to phrases like industrial art, junk art and functionalism. Constructionism or maybe overconstructionism also work, since he makes flower boxes that can withstand a bomb blast, garden hose reels that are bulletproof, and benches you can hide under should it begin to rain sledgehammers."

908 N. 3rd Street is a charming one-story buff yellow and red brick building with decorative inset tile; a plaque in the pediment proclaims "M.J. Lichow, 1924." At 908A, Nathan Pucell and Ian Kerr recently opened the Philadelphia Glass Works, "the only public lampworking facility in the city...using and teaching techniques such as lampworking [using a torch to melt and shape glass], pate de verre [making a paste of glass that is applied to the surface of the mold, then fired], and slumping [heating to the point of plasticity where it can be molded]." 908B houses Fury Design, a graphic design firm. A building of the similar era is at 809 N. 3rd Street, proclaiming "N. Tocconita Building" which the former owner claimed was related to the manufacture of bicycles.

Some industrial buildings are vacant, awaiting redevelopment, such as 1133 N. 4th Street, formerly the "James S. Wilson, Tapes & Bindings." The section along 4th Street seems in best condition, one part elbows up to Cambridge Street, the section extending back to Orianna Street has been demolished. 312 Green Street (southeast corner of Orianna) remains unidentified. A large complex stretches from 1134-1148 North American Street west to Bodine, partially identified as "Block Go-Garts" in 1924. Nestled between 867 N. 4th and 868 N. Lawrence (at the top of the 800 block of N. Leithgow Street, formerly McGrath Street) is an almost-ruined three-story stuccoed brick building which was, according to neighbors, formerly a slaughterhouse and a tin shop. At the edge of the Delaware River at 950 N. Penn Street is a monumental Romanesque building of brick and brownstone with a superb pediment made of copper and glass facing the river.

Two pairs of industrial buildings straddle the ancient Cohocksink Creek, which wound through Northern Liberties and powered William Penn's "Governor's Mill" in 1701. Made into a canal, then a sewer, basements along the path of the Cohocksink still flood—an unfortunate surprise for the new residents. The Cohocksink drained into the Delaware River just north of Pier 35, across Delaware Avenue from Brown Street and "Canal Street." Straddling Canal Street and bending with the curve of the creek are a pair of mostly vacant eight-story concrete warehouses linked by a bridge across the creek at the eighth floor that were probably built in the 1930s. The warehouse to the south of the creek has shorter windows and protruding mushroom capitals with exposed rebar, surely to allow expansion along the northern facade which is parallel to the regular street grid, not the northwesterly direction of the creek.

Other buildings survive along the path of the Cohocksink. George Wells Co, "established 1908, the finest purveyor of meat, seafood and poultry" is at 982 N. Delaware Avenue (between Delaware Avenue and Canal Street below Laurel); a life-sized Black Angus steer stands atop the entrance of this well maintained building. Most other buildings along the Cohocksink seem owned by speculators looking to profit from development along the Delaware waterfront. Terra cotta letters proclaim "HERMAN L. WINTERER" at 943-953 N. Front Street. A fading painted sign atop a one-story building at 49 Laurel Street reads "SHEIN'S EXPRESS, TRENTON - NEWARK - NEW YORK." Further up the Cohocksink, just north of where Hancock Street meets Laurel Street, is a second pair of buildings straddling and bending with the creek, both four stories and mainly brick. To the east was "Keystone Car Spring Wks" and "Hub Spoke & Wheel Wks" (c.1895) now possibly incorporated into 1011 N. Hancock Street. To the west a "Warehouse" stretching west to 2nd Street appeared before 1924 (now known as 1000-1010 N. Hancock Street and 969 N. 2nd St.); a rail track and trestles is visible inside this building from the Hancock Street side.

Louis Kahn, the famous 20th century architect, grew up in Northern Liberties. His son Nathaniel filmed a biography entitled "My Architect, A Son's Journey—a Man, his Buildings, his Secret Lives," which was released in 2003 to wide acclaim. While doing research, Nathaniel walked through Northern Liberties and was struck by the similarity between Kahn's monumental masonry structures with their large voids and shadows, and the hulking industrial buildings of Northern Liberties. When The New Yorker magazine wrote about the biography, Nathaniel and his sister were photographed in front of 1010 North Hancock Street. Decades earlier, Lou Kahn had written, "A city should be a place where a little boy walking through its streets can sense what he someday would want to be."

Two early forms of transportation meander through Northern Liberties. Horses from the "76 Carriage Co." pull their carriages from their stable (north of George Street, between N. Bodine and N. American streets) to Independence Hall where they offer carriage rides through Society Hill to tourists. "Ride the Ducks" keep their fleet of WWII DUKW amphibious craft on the 800 block of N. 4th Street. They also offer rides to tourists, featuring a cruise into the Delaware River from their ramp under the Ben Franklin Bridge.

A few years ago, when the century-old buildings on the southwest corner of Girard and Germantown were demolished to build a new liquor store, a number of neighbors peered into the excavations hoping to find evidence of William Penn's "Governor's Mill." We found nothing, but remembered that it was here, in 1715, that the first patent issued to any person in the American Colonies [Thomas Masters] was put to work "for the sole Use and Benefit of A New Invencon found out by Sybilla, his wife, for the Cleaning and curing the Indian Corn growing in the severall Colonies in America..."

Resources:
Northern Liberties bibliography