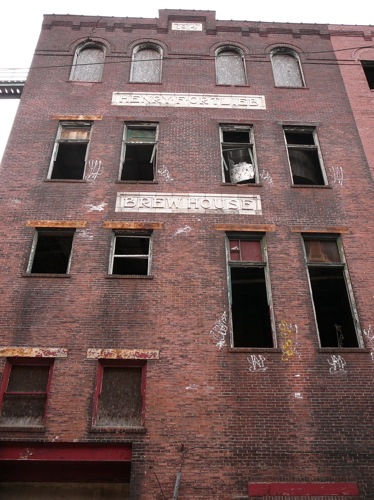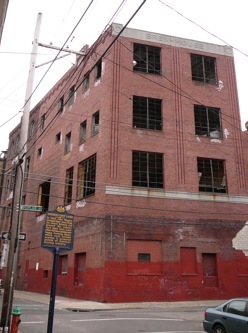 Henry F. Ortlieb Brewing Company
(1863-1868, 20th C. additions)
847 North 3rd Street, Philadelphia PA 19123
832-852 North American Street
829-851 North American Street
© Roy E. Goodman and David G. Orr, Ph.D., Workshop of the World (Oliver Evans Press, 1990).

Ortlieb was founded by August Kuehl in the early 1860s. 1 It changed hands in 1869 and 1885 and was ultimately purchased by Henry Ortlieb in 1893. Ortlieb's employed 119 people in 1943. 2 The company acquired Kaier brand (1966), Neuweiler (1974) and also marketed McSorley's Ale which had been produced by Rheingold. By the late 1970s, President Joseph Ortlieb's television ads, for "Joe's Beer," epitomized the plight of the small local brewer competing with the national firms.

In 1981, Christian Schmidt Brewing Company bought the brand and shifted production of Ortlieb's to the Schmidt Brewery. Ortlieb's is currently brewed in Baltimore, after passing from G. Heileman Brewing Co., of LaCrosse, Wisconsin, (the purchases of Christian Schmidt in 1987) to an Australian firm.

However, Joe Ortlieb's Trupert brand, named after his grandfather, is a high quality "micro" beer, produced under contract by the Lion Inc., the Wilkes-Barre (PA) maker of the Stegmaier and Gibbons labels. "Micro" beers are a new type of specialty beer, made from particular recipes or formulas in small quantities for the beer and ale connoisseur.

The first lager beer brewed in America, by John Wagner, a Bavarian emigre brewmaster in 1840, occurred at his residence at 3rd and Poplar. Perhaps this site should be enshrined by beer devotees. In the interim, one can enjoy a brew at the Ortlieb's Jazzhaus on 847 N. 3rd Street, a vestige of a proud Philadelphia tradition.

1 From 1853-1895 Philip Guckes [sic], 822/834 St. John Street (N. America Street) Donald Bull, et. al, American Breweries, Trumbull, CT., 1984. See Hexamer General Survey #369 (1869) "Philip Gukes, Ale & Porter Brewery & Malt House."
2 William L. Downard, Dictionary of the History of the American Brewery and Distilling Industries , (Westport, CT., 1980), pp. 170-171.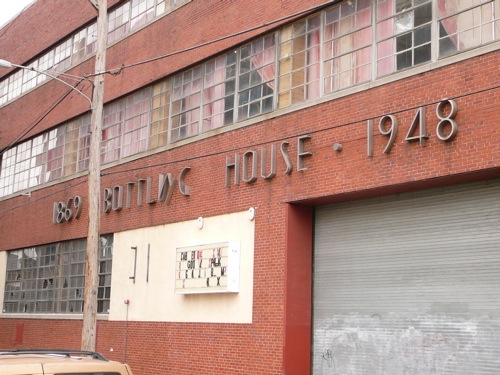 Update May 2007 (by Torben Jenk):
In 1997, Henry Ortlieb, a fifth-generation descendant of the founder, after raising $4 million, opened the "Poor Henry's Brewpub" in the cavernous two-story building with its tiled interior walls, and "ribbon windows." Stainless steel lettering outside proclaims its former use: "1869•Bottling House•1948." Poor Henry's beer was brewed on site and decent pub fare was offered, but it opened too early, before the restaurant and bar renaissance in Northern Liberties. Also, the building was hard for many to find among the various one way streets. Investors pulled the plug on Poor Henry's in 2000. Henry went on to open Ortlieb's Brewery & Grille in Pottstown, but he was killed in a boating accident in 2004. A wide metal staircase was added on the north side of the Bottling House to Poplar Street, as an entrance and fire egress, so the second floor could be used for boxing and performing arts events. This building is now vacant, but stable. Last sold in 2003, the huge spaces are not easily converted to residential use.

838-852 N. American Street (southwest corner of American and Poplar streets) comprises three buildings. To the south along American Street, ivory-colored terra cotta lettering set within the red brick proclaims "1914," "HENRY F. ORTLIEB" and "BREW HOUSE." On the corner building, made with hard orange bricks, limestone-colored cast stone elements proclaim, "1946" and "BREW-HOUSE." Further west along Poplar Street, after a gap from demolition, and of the same construction is the "STOCK-HOUSE." These buildings are in very poor shape. No glass remains in the windows, the masonry is bulging, and rust covers the steel frame. These buildings are likely to be demolished as was the section of the brewery that stretched to N. 3rd Street (between Ray King's studio at 835 and Ortlieb's Jazz House at 847). That 3rd Street section had a beautiful facade of vitrified Roman ironspot brick.

Brewmaster Joe Ortlieb, who still lives in the Philadelphia area, claimed in his 1970s television advertising, "In the beer business, when you bump another brand out of a bar, it's called 'knocking off a spigot.' Those big guys can knock off my spigots, but they can't knock off my taste."