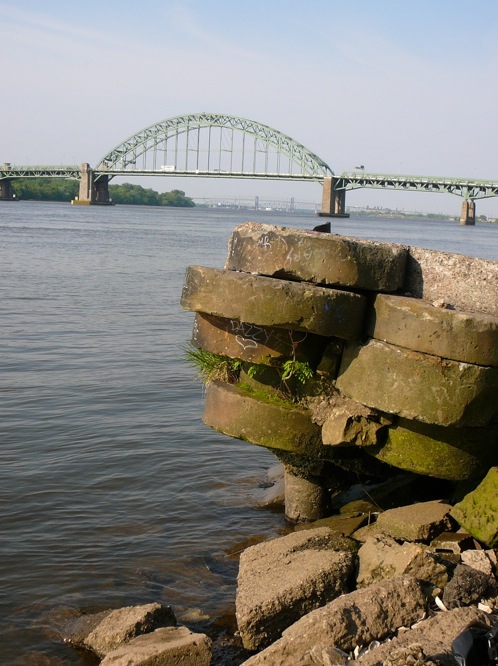 Originally seven feet in diameter, these Disston grindstones became unproductive once worn down to four feet. Hundreds, if not thousands, of them were stacked as bulkhead where Disston fronts on the Delaware River, north of Unruh Street. South is the Tacony Palmyra Bridge.
© Torben Jenk, 2007.
TACONY
© Harry C. Silcox, Ed.D., Workshop of the World (Oliver Evans Press, 1990).

The first recognition of Tacony as a community came when William Penn appointed trading post operator Henry Waldy postmaster for the area in 1683. Scheduled daily steamers took passengers and mail from Tacony's Butterworth Hotel wharf throughout the eighteenth and nineteenth centuries when waterways were the main means of transportation. In 1844, the people of Kensington refused to allow trains to run through their streets making Tacony Philadelphia's terminus for trains to New York. Between this date and 1860 those wishing to travel to New York took a boat from Center City's Walnut Street dock and traveled to Tacony's train station.

The easy access to the city from Tacony made the area a popular vacation spot and location for country houses of wealthy Philadelphians. Among those who had summer homes in the area were men like merchant Caleb Cope, railroadman William Gatzmer, and umbrella manufacturer Robert H. Wright. 1

Tacony continued as a resort until after the Civil War when Henry Disston purchased land for a factory and community of workers there. Between 1872 and 1906 Tacony grew from a hamlet of fewer than 200 people to a community of 12,000. This growth was directly related to the growth of Keystone Saw Works. The company broke ground for the Tacony mill in 1872 and thereafter moved its operations in stages from its plant at Front and Laurel Streets in Northern Liberties. 2 The moves took place as follows:

1872 handle shop
1873 file shop
1879 steel workers
1881 long saws
1881 hardening shop
1882 circular saw department
1883 jobbing shop
1884 hand saw department
1885 jobbing shop moved back to Laurel Street because of inconvenience to customers
1887 square and level department
1896 butcher saw and trowel department
1899 jobbing shop

It was during these years that Disston and Sons Keystone Saw Works became known by reputation as the largest and best known saw maker in the world. To add to the company's reputation an 1886 report by Pennsylvania's Secretary of Internal Affairs lauded Tacony as the state's ideal manufacturing town. Planned as a utopian village by Disston,the town was noted for its clean air and pure water. From 1900 to 1929 life in Tacony was that of a factory town with every available convenience. Houses were built by the company for the workers and sold or rented to them at reasonable prices. Tacony had its own water supply, opera house, movie house, parks, bank, and shopping street. Disston and Sons was the major economic and social institution in the community. It sponsored athletic teams, shows, dances, and beneficial and civic associations.

In 1955 Disston was sold to H.K. Porter of Pittsburgh and twenty years later a Swedish firm, Sandvik, purchased the company from Porter. In 1984 Sandvik sold the company to R.A.F. Industries led by Robert Fox of Jenkintown. 3

The early success of Disston's Saw Factory, and the presence of skilled craftsmen in Tacony, attracted other companies to the area. The Tacony Iron Works (1881), Erben Search textile mill (1885), and the Gillinder Glass Works (1910) were among the industries who provided the community alternatives to working at Disston. The craftsmen in Tacony dictated such decisions on the part of business.

Today, only the buildings of Disston and Erben Search still stand. However, the community has many remnants of Henry Disston's town including Marsden Row at Marsden and Knorr Streets, Jonathan Marsden's house at Longshore and Keystone Streets, Superintendent Butterworth's house at Disston and Tulip Streets, and Magistrate Thomas South's house at the comer of Disston and Keystone Streets. Also many of the old store fronts, the bank building, the opera house, the first movie, all on Longshore Street between Keystone and Torresdale Avenue, remain today as symbols of another era. 4

1 Samuel C. Willits, "History of Lower Dublin Academy," Vol. 2, Holmesburg Public Library, Philadelphia, p. 143; J. L. Smith, Atlas of the 23rd, 35th, and 4lst Wards of the Citv of Philadelphia, (Philadelphia, 1910); 1876 Map of Philadelphia, The Free Library of Philadelphia, Logan Square, Philadelphia; Lorin Blodget, Census of Philadelphia Manufactures, (Philadelphia, 1883). Blodget compiled this work on the basis of the reports from the Police Department as ordered by Mayor Samuel G. King.
2 There is no biography of Henry Disston. William Dunlap Disston, Henry Disston, and William Smith wrote "The Disston History," which was compiled by Elizabeth B. Satterthwaite in 1920 and can be found at the Eleutherian Mills Historical Library, Greenville, Delaware, see pgs. 52-54.
3 Disston, Disston, and Smith, pgs. 1-100
4 "Tacony Industries, Smokestacks Tower over Homes Old and New," (September 23, 19510: see also "Tacony: Grand Celebration at tacony Week of May 30, 1906," Bulletin Colection, Tacony Envelope, Urban Archives, Paley Library, Temple University.

Acknowledgements: William Rowen, Master Smither, Disston and Sons. Catherine Seed, Worker, Mary Disston Estate. Roland Woehr, Manager, Disston R.A.F. Industries. Louis Iatarola, Owner, Tacony Music Hall. Marguerite Dorsey Farley, Resident of Tacony since 1896. Bob Bachman, Crane Operator, Disston and Sons.

Resources:
Tacony bibliography