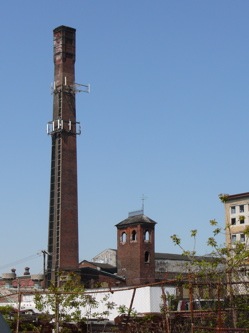 Erben Harding Textile
, 1885

5200 Unruh Street, Philadelphia PA 19135
(south side of Unruh Street at the Delaware River)
© Harry C. Silcox, Ed.D., Workshop of the World (Oliver Evans Press, 1990).

The lauding of Tacony as the ideal manufacturing town by the report of Pennsylvania's Internal Affairs Secretary brought Erben Search Company Worsted Mill into the community in 1885. Land was purchased on the river south of the Disston works and a building constructed that resembled the textile buildings of the 1860s. The building itself, with its tower and chimney remain the best example of such manufacturing buildings still standing in the area. In 1904, the Harding Textile Company at 25th and Spring Garden Streets decided to merge their operation with that of Erben in Tacony. Thereafter the textile plant was known as Erben Harding.

When the new plant was opened there was, for the first time, an industry in Tacony that employed large numbers of female workers. Most were Polish women from Bridesburg or Irish or Italian women from Tacony. The company closed during the depression of the 1930s. The Erben Harding complex remains deserted but in good condition. 1

The Erben Harding building remains in use today as a warehouse; however, the office area and original textile mill are not being used and appear abandoned.

1 "Tacony," Erben Harding Company, (1906); see also, "The Keystone Saw, Tool, Steel, and File Works," Annual Report of the Secretary of Internal Affairs of the Commonwealth of Pennsylvania—Part III—Industrial Statistics, Vol. XV, (Harrisburg, 1887), p. E-35.


Update May 2007 (by Torben Jenk):
Rising atop a complex of perhaps four two-story brick buildings are a huge square tapering chimney and a charming brick tower with arched windows, iron cresting and a weathervane. Three large ventilators rise from the gabled roof of a one-story structure at the northeast corner. Access to the site is restricted, limiting further observations.

See also:
Hexamer General Survey #2274 (1889) "Erben, Search & Co's Worsted Mill."