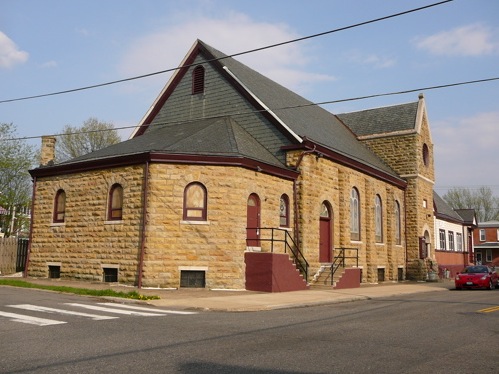 Tacony Baptist Church
, 1884

4715 Disston Street, Philadelphia PA 19135
(north side between Hegerman Street and Vandike Street)
© Harry C. Silcox, Ed.D., Workshop of the World (Oliver Evans Press, 1990).

One of the most unusual church buildings in the United States is the Tacony Baptist Church. It reflects the importance of the Disston Saw Works to the community and the constructive use of industrial waste at the turn of the century. Built in 1884, the church added a wing in 1915 built from the discarded grindstones from the Disston Saw Works. The stones were trimmed so that they no longer look like grindstones, but two round grindstones set in the sidewalk remind churchgoers why it is the Grindstone Church. The bell in the church was cast in 1860 in Philadelphia. Used at Logan Square in 1864 to raise money for hospitalized soldiers of the Civil War, it was bought by Henry Disston to be used at his Front and Laurel Street factory. The bell was brought to Tacony when the Laurel Street plant closed and sat in the yard until it was loaned to the church in 1915. It has called the faithful to worship since then. The church remains the only known sandstone church structure built of industrial by-products in America. 1

1 "Tacony" pamphlet available in the Tacony Collection, Tacony Public Library, (n.d.).


Update May 2007 (by Torben Jenk):
Survives in good shape. The signboard in front states, "Founded Dec. 4, 1882," while the date stone on the sandstone entrance reads, "1915."