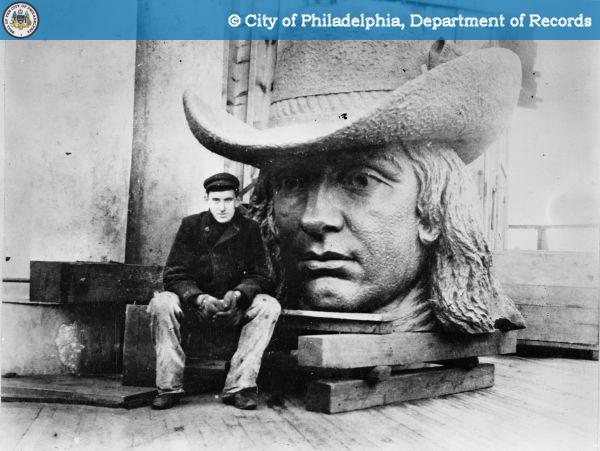 William Penn's head, sculpted by Alexander Calder, cast by Tacony Iron Works, awaits being hoisted atop City Hall.
Tacony Iron Works
, 1881-1910

Dodge Steel
, 1919

6500 State Road, Philadelphia PA 19135
(between Elbridge Street and Magee Avenue, east to Delaware River)
© Harry C. Silcox, Ed.D., Workshop of the World (Oliver Evans Press, 1990).

One of the earliest companies that moved into Tacony to take advantage of the location and reputation of the workers in the community was the Tacony Iron Works. Opened early in 1881 on land directly south of the Disston plant on State Road, the iron works produced the structural iron work for the tower and the giant statue of William Penn for the Philadelphia City Hall. Tacony residents watched the progress of Alexander Milne Calder's statue of Penn with great pride and delight. The statue, consisting of 47 pieces, was moved from the Tacony Iron Company to City Hall Square by Levi Eldridge's dray, a special sled for carrying heavy loads; the team of horses was driven by Nick Tomlinson.

The Tacony Iron Works was abandoned in 1910 and in 1914 the Lubin Film Studio at 8th and Market Streets selected the site to stage a fire for one of its films, "Gods of Fate." The factory was set on fire so that a scene could be filmed with the actors escaping from a window. Unfortunately, the fire spread and the building burned to the ground. 1

In 1919 Kern Dodge founded Dodge Steel and moved the firm onto the grounds of the Tacony Iron Works. One of Dodge Steel's most outstanding and important developments was the Williams Method—a process that made possible the successful and economical manufacture of castings. The man who invented the method was John A. Williams, foreman of the molding department of Dodge Steel Company during 1937-38. Charles Tolan, Jr. was president during those years and he kept the process a secret. Valve bodies, pump and turbine parts, and castings for the railroad, marine, and automobile industries bearing the 'DS' trademark were considered among the best in the world. Dodge Steel's main building is still standing. 2

1 "When 1914 'Fire' Became Real: Did Hollywood-on-Schuylkill Die," Bulletin Collection, Tacony Iron Works Steel Envelope, (April 30, 1967), Urban Archives, Paley Library, Temple University; see also, "Aluminum Electro-plating in Architecture," Scientific American, (New York, October 22, 1892), p. 261.
2 "Tacony, 1906," (Tacony Iron Company); see also "They Know Casting," Bulletin Collection, Dodge Steel Envelope, (November 1952), Urban Archives, Paley Library, Temple University.


Update May 2007 (by Torben Jenk):
Demolished. Six hundred fifty new homes are proposed for this eighteen-acre site.