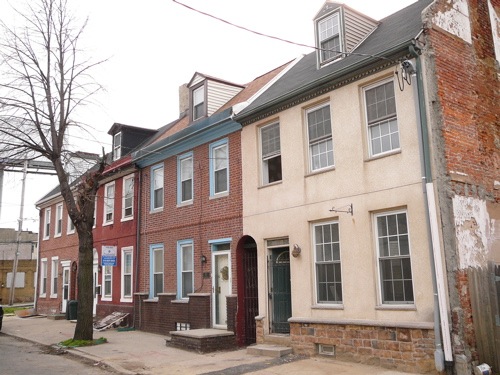 Housing on New Market Street
,
1808-1811
906-912 New Market Street, Philadelphia PA 19123
© Roy E. Goodman and David G. Orr, Ph.D., Workshop of the World (Oliver Evans Press, 1990).

These early brick, two and one-half story row houses illustrate the first major period of industrial growth in the Northern Liberties. Built between 1808-1811 by a merchant developer named William Philip, the six units were originally occupied by a carpenter and five porters. 1 Fortuitous survivals, they testify to the district's incipient economic and social development in the late eighteenth and early nineteenth century. The analysis of such architecture serves as an important element in an ethnographic approach to the study of the Northern Liberties community. Although Philadelphia's row house architecture, its precise evolution and history, is imperfectly known at this time, the domestic buildings found on New Market Street promise to provide some of the answers upon careful study of the written record and existing archeological remains both above and below ground.

1 Richard Webster, Philadelphia Preserved (Philadelphia, 1976), pp. 307-8; see also Wendy H. Robbins, "Briefs of Title for 903-913 New Market Street" (Philadelphia Historical Commission, 1967).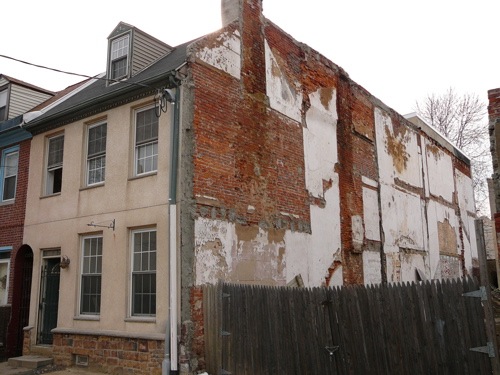 Update May 2007 (by Torben Jenk):
The brick facades on 906 & 910 have been harshly acid washed and crudely pointed; 908 is painted; 912 was recently stuccoed. No original window sashes remain and the millwork has been capped with aluminum. The dormer on 908 is the oldest, with pilasters and a projecting pediment. 914 was similar but demolished, the 912/914 party wall has not been stuccoed, so passersby can the see the archeological 'ghost' of the interior spaces defined by bare brick chimney flues, plastered walls in rooms and closets, joist pockets, the stairs, and the addition to the rear. The raised roadway of Interstate 95 is just across the street, noisy and smelly, spoiling any hope of an early 19th century ambiance.