Christian Schmidt and Sons, Inc.
, 1860

113 Edward Street, Philadelphia PA 19123
(south side of Girard Avenue between 2nd Street and Hancock Street).

© Roy E. Goodman and David G. Orr, Ph.D., Workshop of the World (Oliver Evans Press, 1990).

Christian Schmidt, an immigrant from Wurtemberg, Germany, purchased the Robert Courtenay brewery which primarily produced ale at this site in 1860. The acquisition of other breweries, such as Peter Schemm, in addition to the production of lager beer, boosted output to 100,000 barrels by 1892. A marked expansion of the physical plant kept pace with the brewery's growth.

The last quarter of the nineteenth century was Philadelphia's shining era for large and small breweries. Bergner and Engel (120,000 barrels), and William Massey and Company (75,000 barrels), were the third largest and eleventh largest breweries respectively in the U. S. in 1877. By 1895, Bergner and Engel with 250,000-300,000 barrels had fallen to 15th place; the largest local brewery. 1 Other major companies were Engels and Wolf, Betz and Bergdoll. Christian Schmidt was succeeded by his son Edward who headed the company from 1895 until 1944. There were 421 employees at Schmidt's in 1943. It had survived and thrived through new technologies—refrigeration, and political impediments, even Prohibition, which decimated other breweries both locally and nationally. Only 26 breweries operated in Pennsylvania in 1960. Philadelphia lost brands such as Esslinger, Poth, Gretz and Class and Nachod.

Schmidt family ownership ceased in 1976 with the sale of the brewery to William H. Pflaumer. By the late 1970s Schmidt's was the tenth-largest American brewery. It operated a plant in Cleveland, Ohio which facilitated mid-west regional sales. Valley Forge Brewing Company was acquired in the 1960s, Duquesne Brewing Company (Pittsburgh) in 1972, and label and brewing rights to Reading and Bergheim were purchased in 1976, Rheingold in 1977, Erie Brewing Company, with its Koehler brands in 1978. 2 In 1981, Ortlieb, the only other Philadelphia brewery, was purchased by Pflaumer. Schmidt's, unable to cope with the marketing muscle of the giant national brewers even though it employed 1,400 and produced three million barrels of beer as recently as 1984, sold its brands to G. Heileman Brewing Company of La Crosse, Wisconsin, in April 1987. Production of the Schmidt's labels slumped to about $1.6 million barrels in 1986, less than one percent of the total U. S. Market. 3 The demise of Schmidt's marked the end of the large brewery in Philadelphia. However, one high quality, small label, "Dock Street," claims Philadelphia as its operational headquarters. Actually brewed in Utica, New York by the West End Brewing Company, "Dock Street" hopes to establish a plant in Philadelphia in the near future.

1 Downard, pp. 1701 and 2401. Schmidt's is also covered in:
Hexamer General Survey #561 (1872) "Kensington Brewery & Malt House, Chr. Schmidt."
Hexamer General Survey #1913 (1885) "Kensington Beer, Ale and Porter Brewery, Christian Schmidt."
Hexamer General Survey #2512 (1892) "Kensington Beer Brewery, Christian Schmidt."
Hexamer General Survey #2842 (1895) "Kensington Beer Brewery, Christian Schmidt & Sons."
2 Bull, et al., p. 270.
3 Terry Bivens, "Philadelphia Beers had their Glory Days," Philadelphia Inquirer, April 19, 1987, pgs. 1-D and 4-D.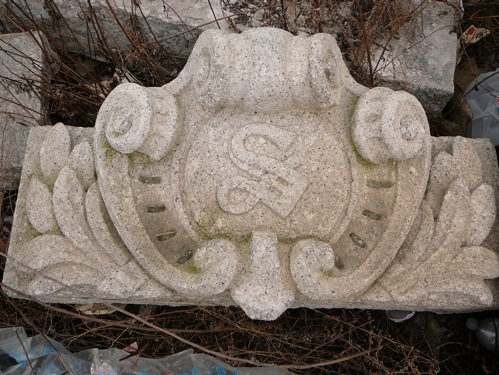 Update May 2007 (by Torben Jenk):
Demolished. Purchased at auction in 2000 for $1.8 million, the developer razed the entire site with dreams of erecting big box retail stores and fast food restaurants among acres of parking. Luckily, K-Mart, one of the tenants he sought, went bankrupt. Despite objections from locals, the developer demolished the most charming streetscape in Northern Liberties—residential or commercial—the cobblestone block of Edward Street between Hancock and 2nd streets which was aligned southwest toward the skyscrapers of Center City. Monumental 19th and 20th century brewery buildings lined either side, beautifully built with vitrified brick. The odd configuration of this parcel, turned 45 degrees away from the surrounding street grid, dates back to the early 18th century tobacco field of John Stacey. It was always fun to watch the daylight animate this block because of its odd angle and the reflective surfaces of the cobbles, vitrified brick, and glass. Signature elements of the facades were half-heartedly salvaged during demolition, the granite columns and pilasters lie forlornly among the parking lot of the adjacent Daniel Boone School (developed into apartments) while the elaborately carved granite pediment with "CS" lies face up, abandoned with a few other granite blocks, in a vacant lot between Hancock and Front streets.

The neighbors spent years educating and cajoling this developer to see the real opportunities in Northern Liberties, advocating for mixed-use residential, small-scale retail, and live and work studio space in renovated or new buildings, arranged in a pedestrian-friendly way. By purchasing additional lots, the developer now controls about 18% of the land in Northern Liberties and he has begun to follow the neighbors' suggestions, seemingly with success. However, the two hundred years of history reflected in charming Edward Street were lost to idiotic, "scorched earth" demolition.