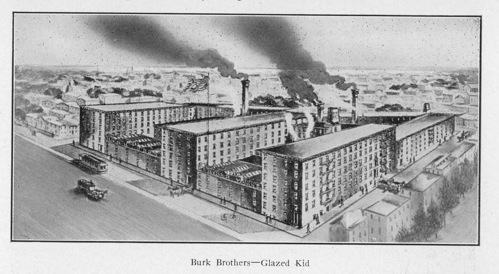 Burk Brothers and Company
, 1855
919-961 North 3rd Street, Philadelphia PA 19123
© Roy E. Goodman and David G. Orr, Ph.D., Workshop of the World (Oliver Evans Press, 1990).

This group of structures consists of twelve interconnected red brick and reinforced concrete factory buildings. They represent the "largest and oldest group of leather industry buildings" 1 still surviving in the old leather district of the city. Every one of the buildings, dating from 1855 to 1913, was designed for the processing of leather goods of various kinds. The production of morocco leather by the vegetable tanning process, the chrome tanning method of making glazed kid leather and also kid skin are exemplified by this architecture.

By about 1900, Burk Brothers was one of Philadelphia's largest and most successful leather firms, second only to Robert Foerderer of Frankford, Pennsylvania in the production of glazed kid skins. 2 The manufacture of leather products and the processing of leather represented the fifth-largest category of American industry in 1884. Two zealously-guarded processes which radically changed the kid leather industry worldwide, reducing production time from months to days, are closely associated with Henry Burk who owned the site from 1891 until his death in 1903. 3 Tanning and finishing kid skins on this site lasted until the mid-twentieth century. 4

Two buildings of reinforced concrete on the site were constructed by the Burk Brothers when this building technology was in its innovative phase. The designer and builder of one of them was William Steele and Sons Co., of Philadelphia, who had designed and built the first baseball stadium in America to use concrete bleachers (Shibe Park) in 1909 for the Philadelphia Athletics. 5 It has been proposed that the buildings be converted to residential space.

1 Dorothy B. Templeton, John Milner Associates, "Nomination of Burk Brothers and Company to the National Register of Historic Places," (1985).
2 Templeton.
3 Brother D. Leo Quinn, "The History of Tanning in America," (unpublished M.A. thesis, Villanova University, copy at Villanova University Library); cited in Templeton.
4 Philadelphia Land Records, Block 6N12 Lot 214.
5 Templeton.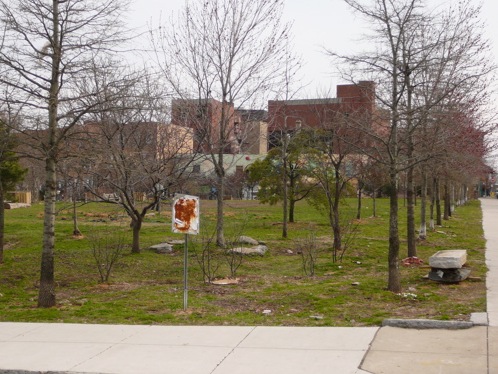 Liberty Lands park, looking south from Third & Wildey Streets towards the remaining buildings of Ortliebs (2007).

Update May 2007 (by Torben Jenk):
Nothing survives of the huge Burk Brothers complex. Purchased by a developer during the speculative real estate market of the 1980s, the owner got cold feet in the early 1990s when the federal government rescinded the tax credits for restoring historic properties and when the real estate market sank. In 1993, Mitch Deighan, a neighbor and President of the Northern Liberties Neighbors Association, asked that the site be donated to the NLNA. Demolition was mandated by the City's Department of License & Inspection as a condition to transfer ownership. Sitting in the NLNA office in 1995, Deighan, Executive Director Rita Fitzgerald, and Secretary Karen Kearney wondered what to do with the land. Kearney suggested "we ought to make a park there," Deighan added "and call it Liberty Lands." Fitzgerald pursued grants "to green a 'Brown Fields' site"—a term used to describe cleaning up a polluted industrial site. Liberty Lands has grown to include a vegetable garden, play areas for children, and grass for playing frisbee and walking dogs. It is also used for various community festivals.

See also:
Hexamer General Survey #527 "J.M. Hummel, Sheep & Calf Skin Manufactory."
Hexamer General Survey #849-850 (1875) "E.A. Smith & Bros., Morocco & Fancy Leather Works."