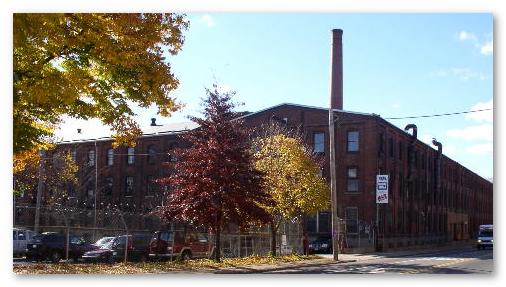 © Wayne Mills

New Glen Echo Mills
, 1885

130 West Berkley Street, Philadelphia PA 19144
© Harold E. Spaulding, Workshop of the World (Oliver Evans Press, 1990).

The company that built the New Glen Echo Mills on four and a half acres of land at Wayne Junction Station in 1885 originated in 1830, when a Scot named William McCallum began the manufacturing ingrain carpets in a water-powered mill on Carpenter Street in northern Germantown. The mill on Carpenter Street had been built in 1812 to make cloth for soldiers' uniforms. In it were constructed the first Jacquard machines in this country, built by two Scots who were McCallum's first employees.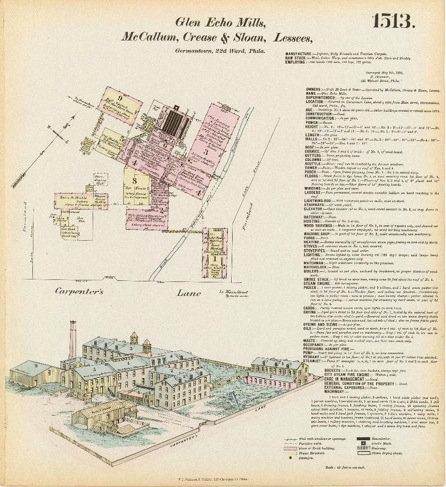 Hexamer General Survey #1513 (1880), "Glen Echo Mills, McCallum, Crease & Sloan, Lessees."

Andrew McCallum was joined by his brother William in 1831, and together they bought from James Burk an adjoining mill and 20 acres of land on Paper Mill Run, where they proceeded to develop the first Glen Echo Mills. In 1835, they added a steam engine and boiler; 10 years later, they built a 50-by-100-foot four story stone mill for spinning. In 1846, six three-ply ingrain power looms, built by Alfred Jenks of Bridesburg were installed. They are said to be the first power looms in Pennsylvania. By this time, the mills had become the largest in the state; Andrew McCallum & Company now employed 250 hands. 1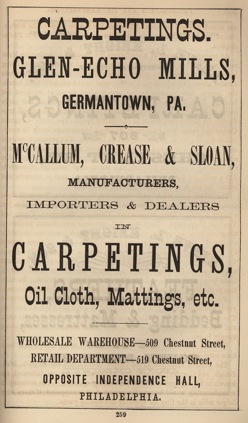 © Edwin T. Freedley, Philadelphia and its Manufactures (1867), p. 259.

Andrew McCallum died in 1859, and William became sole proprietor. Four years later, when Hugh McCallum, Orlando Crease, and A.J. Sloan joined the firm, it became known as McCallum and Company. During the Civil War, the company made army blankets; for a decade after the war, ingrain carpets were its usual product. In 1875, the company began making power-loomed Wilton and Brussels carpets. By 1885, its growth and need for more space had caused the company to relocate at Wayne Junction, where it built the New Glen Echo Mills. 2

After Orlando Crease retired in 1887, the company became McCallum and Sloan. Five years later, McCallum died, Sloan retired, and Hugh McCallum's sons took over. Shortly thereafter, the plant at Wayne Junction was sold at sheriff's sale for $100,000 to a Mr. Price, said to represent Orlando Crease. In 1908, the single story weaving shed next to the railroad tracks was shared by H. G. Fetteroff Wilton Carpet & Weaving and W. Scholes, In-grain Carpets and Art Square Weaving. The Wayne Junction Spinning Company and the Prudential Worsted Company occupied the three story building. The one story dye house next to the power plant was occupied by William S. Lloyd.

Today, the plant is totally occupied by the Wayne Mills.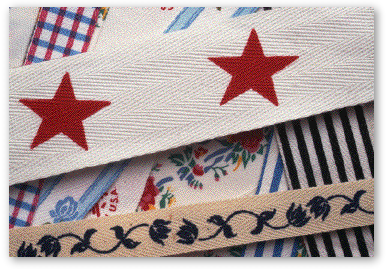 Printed Tapes, © Wayne Mills

1 "Industries, Graveyards, Firehouses," 1891, E.C. Jellett Scrapbook, found at the Germantown Historical Society Library, Call No. L-1/24, pg. 79
2 The original Glen Echo Mills complex, located on Carpenter Street along Paper Mill Run, was demolished in 1920, after being purchased by a developer.


Update May 2007 (by Linny Schenk & Michael Parrington):
Wayne Mills still occupies the plant.


See also:
Hexamer General Survey #294 (?), "Glen Echo Mills, McCallum, Crease & Sloan."
Hexamer General Survey #529 (?), "Glen Echo Mills, McCallum, Crease & Sloan."
Hexamer General Survey #1513 (1880), "Glen Echo Mills, McCallum, Crease & Sloan, Lessees."

Wayne Mills - corporate website