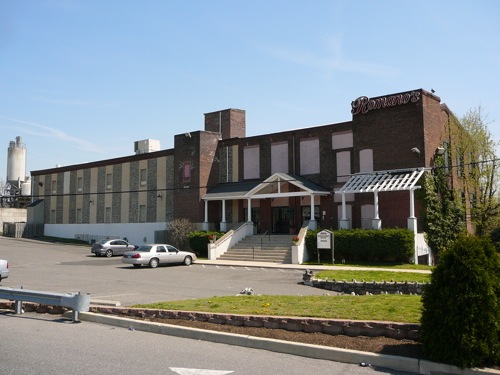 West facade (2007).

Frogmore Mills
, c.1848

1523 East Wingohocking Street, Philadelphia PA 19124 (north side between Castor Avenue and Adams Avenue)
© Barbara M. Auwarter and Joyce Halley, Workshop of the World (Oliver Evans Press, 1990).

Plate 24 of the Philadelphia City Atlas of 1860 shows a cotton mill located between Frankford Creek and Powder Mill Lane (now Wingohocking). Hexamer Survey #242 indicates eighteen-year old frame structures already on this site with new stone and brick buildings. That complex, called Frogmore Mills, was owned by the Garsed Brothers and produced cotton goods with woolen warps and spun cotton.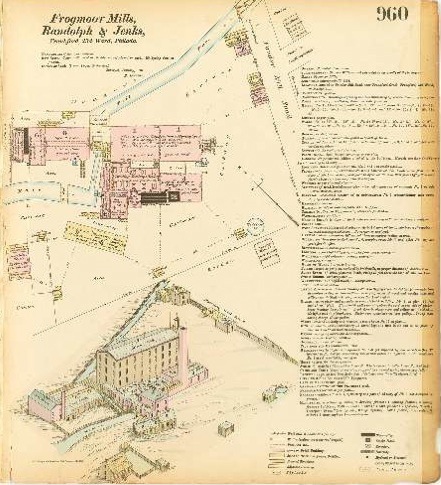 Hexamer General Survey #960 (1876), "Frogmoor Mills, Randolph & Jenks."

By 1876, 1 Randolph & Jenks owned the Frogmore Mills which had been entirely rebuilt in 1868 and manufactured cotton goods only. This factory was operated by steam and water power from a mill race from the fast-running Frankford Creek. The waterwheel was a 52" Leffel which produced 70 horsepower, only 10 horsepower less than the steam engine.

Walker & Richman owned the Frogmore Mills, listed as a cotton yarn factory in 1889. 2 In 1906, 3 Rachel and J. Randolph owned the Frogmore Mills, which has an entirely different building conformation on the city atlas. Reputedly, a fire in the late 1890s had resulted in the construction of an entirely new mill.

Philadelphia Felt Company was operating in this building in 1925 4 and continued to do so until the early 1980s. The building is presently occupied by the banqueting hall of Romano's Catering. The interior retains the mill's steel roof trusses, wooden ceiling sheathing and some original wooden floors.

1 Hexamer General Survey #960 (1876), "Frogmoor Mills, Randolph & Jenks."
2 Insurance Map of Philadelphia, 1889; Hexamer Survey #284 (?), Wilson's Frankford Woolen Mills."
3 Philadelphia City Atlas, 1906, 23rd Ward, Plate 25
4 Philadelphia City Atlas, 1925, 23rd Ward, Plate 26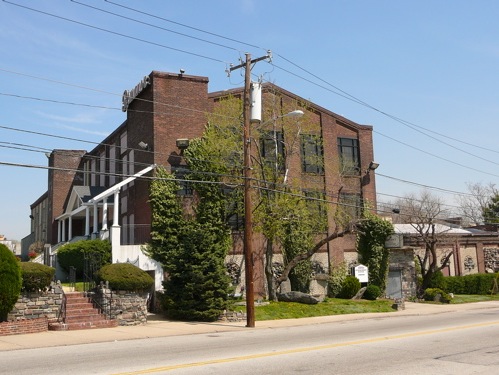 Southwest corner, Wingohocking Street(2007).

Update May 2007 (by Torben Jenk):
Still occupied by Romanos Catering. No original windows survive. Modern brown aluminum replacements are on the south facade. Many window openings have been sealed on the east and west facades, on both the brick and the stone sections.


See also:
Hexamer Survey #2591 (1892), "Frogmoor Mills, Walker & Richman."