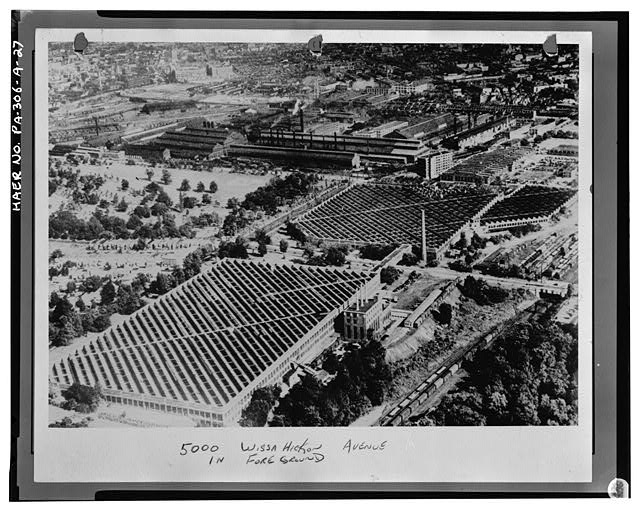 Aerial view of trusses designed to incorporate natural light. Designed by Ballinger in 1923.
HAER

Atwater Kent Radio Plant
,
1923

5000 Wissahickon Avenue, Philadelphia PA
(corner of Abbottsford Road)

© Harold E. Spaulding, Workshop of the World (Oliver Evans Press, 1990).

In 1902, Arthur Atwater Kent constructed a plant at 6th and Arch Streets in Philadelphia to make interconnecting home telephones and small voltmeters. Within the next three years, he began developing automobile components such as open circuit ignition systems, switches, and timers. Shortly thereafter, he moved his plant to East Stenton Avenue, near the Fisher Station and with 125 employees engaged wholly in the production of automotive ignition devices. Later, he diversified into the production of lighting systems and during World War I he manufactured fire control equipment for gunnery. After the War, he turned his attention first to the manufacture of radio components and ultimately, in 1923, to the production of his first five-tube receiver. 1

The present plant was constructed in 1923 on a fifteen acre site. Designed by Ballinger Architects and Engineers of Philadelphia, the plant's hallmark was an interesting truss design, patented by Ballinger. The truss featured a deep, long span with natural lighting incorporated into the truss structure. 2 In 1928, an additional plant was built across Abbottsford Road on seventeen acres. 3 The two plants were connected by an enclosed bridge over the road.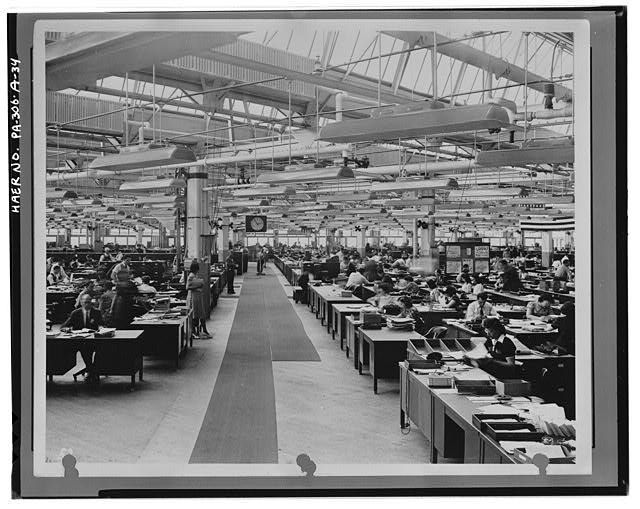 Interior view of trusses incorporating natural light. HAER

During the 1927-28 season, the Atwater Kent Company produced over one million radios and became the largest manufacturer of radios in the world. During the 1930s, the Depression forced the radio industry to change as large-scale, mass-produced, cheaply made radio sets became available. During that time, organized labor introduced more concerns for manufacturers and demanded more from their employers. In 1935, Atwater Kent decided to quit the radio business and he closed down operations within a year.

By 1936, the Philadelphia Storage Battery Company, later known as Philco, took over the complex. After World War II, Philco made refrigerators at the plant. After Philco became a part of Ford Aerospace, the plant shut down.

The plant now sits vacant but is presently being refurbished by developers Brian and Michael O'Neill, who plan to offer low-cost rental space to light industry.

When U.S. Route 1, the Roosevelt Extension, was constructed, the bridge between the two plants was destroyed.

1 Dictionary of American Biography, 1946-1950, (New York, 1950), pp. 451-453.
2 See Patent Reissue No. 15,133, dated June 28, 1921, found at the Ballinger Company's archives in Philadelphia.
3 It is now occupied by the Veterans Administration.


Update May 2007 (by Muriel Kirkpatrick):
The original 1923 building has been converted to a center housing several operations, including the Wissahickon Charter School, where the Philadelphia Flying Phoenix Dragonboat team holds indoor practice. One major component is Material Culture, a retail operation established in 1996 in a two-story building that was used as train shed for the Atwater Kent plant. The first floor houses furnishings and decorative objects from Africa and Asia. On the second floor, light from the saw tooth roof illuminates an array of rugs.

In 2006, the Philadelphia Design and Distribution Center, a 677,000-square-foot building, was sold to a New York partnership. At that time it was 94 percent occupied by 20 tenants. It was known as the storage location for Philadelphia's voting machines. (Based on articles from the Philadelphia Business Journal published in February 1999, and July 2006).

In the mid 1990s the second 1928 building, across Abbottsford Road, was demolished for new construction. The building cornerstone was opened by a group of individuals from the preservation community, including members of the Atwater Kent family and a representative of the Atwater Kent Museum, Philadelphia's museum of city history.

Originally housing the Franklin Institute, the Atwater Kent Museum building on South 7th Street was almost demolished when the institute moved to the Benjamin Franklin Parkway in 1933. An excerpt from the museum's website continues the history:

"In 1936 the newly elected Mayor S. Davis Wilson and Frances Wistar, president of the Philadelphia Society for the Preservation of Landmarks, asked inventor and radio pioneer A. Atwater Kent to purchase the building and create a history museum for the City of Philadelphia. Wilson and Wistar were joined in their efforts by the president of the University of Pennsylvania, the director of the Historical Society of Pennsylvania and the president of the Franklin Institute. Kent agreed, and in 1938 the building was purchased and given to the city with three conditions. It was to be dedicated to the history of Philadelphia, named for Kent and be free to the public.(In 1994 a City Ordinance allowed the museum to charge an admission fee). On April 19, 1941, the Atwater Kent Museum was formally dedicated in ceremonies attended by the mayor and over 100 city officials."

See also:
Historic American Engineering Record - Atwater Kent

Atwater Kent Museum - a brief history of Atwater Kent Manufacturing Company and links to Atwater Kent radio websites