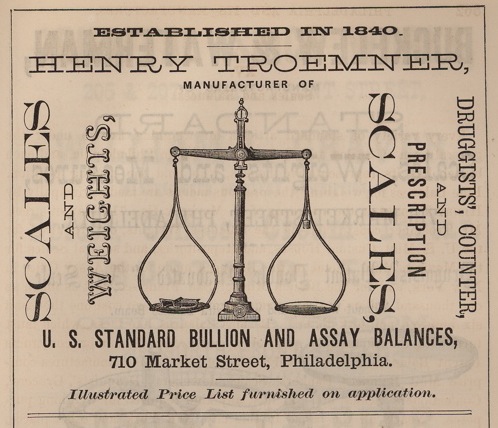 © Edwin T. Freedley,
Philadelphia and its Manufactures
(1867), p. 563.


Henry Troemner & Co.
, c.1920, modified 1965
6825 Greenway Avenue, Philadelphia PA 19142
© John Mayer, Workshop of the World (Oliver Evans Press, 1990).

Henry Troemner emigrated to Philadelphia from Germany in 1836 and found employment as a locksmith working at Girard College. In April 1840, Troemner formed a partnership with F. Meyers and began manufacturing scales and balances.

Troemner became the sole proprietor of the business and in 1864 built his first factory at 22nd and Master Streets. Troemner built precision scales for The U.S. Mint, Custom House and Assay Offices. 1 Troemner also built "Star" coffee mills, advertised as "the most perfect grinder" patented in 1884. 2

The Troemner company has continued to manufacture precision weights and scales for laboratory use and is capable of producing "standard" weights sets. In 1960, the company began a complete weight calibration service in cooperation with the National Bureau of Standards. 3

Troemner remained at 22nd and Master Streets until the present building, once a bakery, was renovated in 1965. Troemner currently employees approximately fifty machinists, assemblers and technicians.

1 Edwin T. Freedley, Philadelphia and Its Manufacturers, (Philadelphia, 1857), p. 562.
2 Troemner Company trade catalog, Troemner's New "Star" Coffee Mills, (Philadelphia, c.1890).
3 Wilber D. Abele, "Time-saving Application of Electronic Balances," in American Laboratory, October 1981, pp. 154-6. See also MacAlaster Bicknell Co., "The New Troemner," in MBCO News, Vol. 8, No. 1, 1965, p. 2.


Update May 2007 (by Joel Spivak):
The building is currently used as an Ethiopian Orthodox Church.