Schuylkill Generating Stations
A-1 and A-2, 1903 and 1915
2600 Catherine Street, Philadelphia PA 19146
© John Mayer, Workshop of the World (Oliver Evans Press, 1990).

Designed by John T. Windrim for the Philadelphia Electric Company, Schuylkill Generating Station A-1 was the first large-scale, centralized power plant in the Philadelphia region. Original equipment included two steam engine generators—one, a 2,000 kw unit, the other a 5,000 kw unit. Thirty-two coal-fired boilers, fed by hand, supplied the steam for the turbines. In 1906, after only three years of operation, the original turbines were replaced by three new 5,000 kw vertical turbines. In 1935, boilers were converted to oil, in part to eliminate problems with the uncertain coal supplies caused by mining strikes. 1

Station A-2 was added to the site beginning in 1914 with two more generators—one a 30,000 kW, 25 cycle generator to supply current for the Philadelphia Rapid Transit Company and the Pennsylvania Railroad; and the second, a 35,000 kW, 60 cycle machine, was used for power production. The Pennsylvania Railroad's requirement of single-phase current from Station A-2, presented a difficult engineering problem for the electric company. Charles Steinmetz, then a scientist and engineer with General Electric, designed a phase-balancer to solve the problem.

In 1950, the Schuylkill Generating Station began co-generation of steam and electricity, initially using exhaust steam to supply steam for heat in the city's distribution networks.

1 Philadelphia Electric Company, Milestones, (Philadelphia, 1981), pp. 11-13. See also J. Cohen, Historic Resource Survey Form, Pennsylvania Historical and Museum Commission, 1981.


Update May 2007 (by Joel Spivak):
No change.

See also: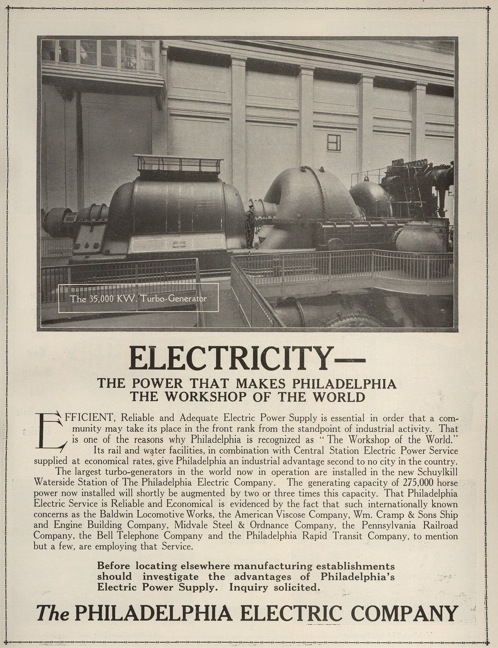 © Philadelphia Year Book, 1917.