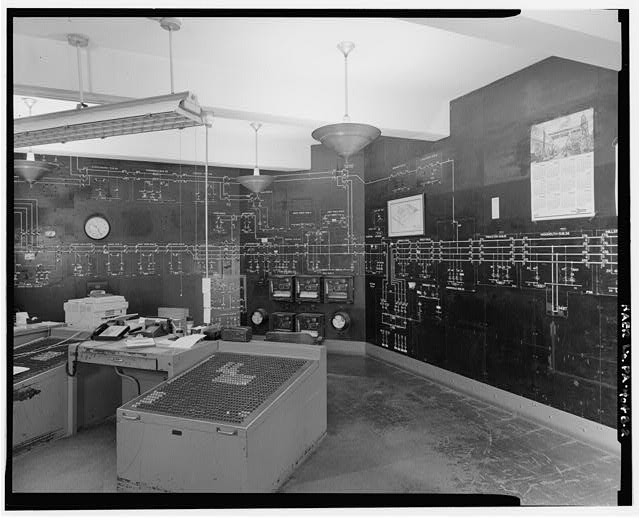 "Thirtieth Street Station, Load Dispatch Center."
HAER


30th Street Station, Power Distribution Facilities
, 1934

Bounded by Market, 30th, and Arch Streets and the Schuylkill Expressway, Philadelphia PA

© Preston Thayer and Jed Porter, Workshop of the World (Oliver Evans Press, 1990).
The power distribution grid, with interlacing feeds from several commercial power companies, is used to power the 12,000 volt, 25 hz overhead catenary system for Amtrak's Northeast Corridor and Harrisburg Lines. The grid is diagrammed on the walls of the distribution room where original equipment, installed by the Pennsylvania Railroad when 30th Street Station was built, is still in use to monitor electric power consumption.

In the power dispatcher's office, a smaller segment of the grid in the immediate vicinity of 30th Street Station is controlled from an equally venerable switching network. Remarkable is the flexibility permitted by this system which was studied by the Japanese before they built their "New Tokaido Line" in the late 1960s. This system utilizes microcomputers and video displays to replace the massive boards used in the original.

Update May 2007 (by Harry Kyriakodis):
Still in operation.

Resources:
The Historic American Engineering Record offers excellent histories and photographs of the 30th Street Station, Load Dispatch Center and the 30th Street Station, Power Director Center.