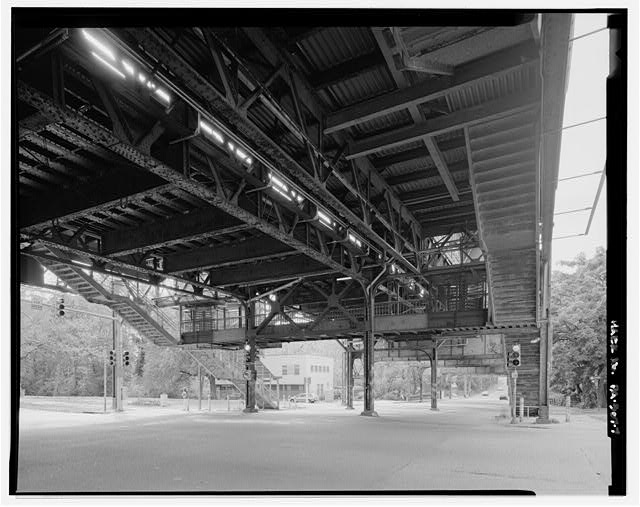 Underside of superstructure beneath 63rd Street Station. Detail of platform versus track levels.
HAER

Market Street Elevated Railroad
, 1904-06

Now known as the Market-Frankford El.
Above and beneath Market Street from 30th to 69th Streets, Philadelphia PA

© Preston Thayer and Jed Porter, Workshop of the World (Oliver Evans Press, 1990).

Only a portion of the original Market Street Elevated Railroad remains, as the section from the Schuylkill River to 44th Street was demolished and replaced by a subway. The demolition was only a single episode in its brief but lively history. In the 1890s construction of the Quaker City Elevated Railroad halted after the erection of the first pillar on Market Street because of public opposition to such a structure running up the main business thoroughfare. The Union Traction Company continued to operate trolleys without any competition until June 1901, when John Mack of Philadelphia sought to aggregate 286 miles of track and establish seven companies to operate surface cars. His proposal was submitted to the City Council, which passed ordinances to approve the routes. Included in the incorporation was the establishment of five companies to operate elevated railroads, among them the Market Street Elevated Passenger Railway Company. To remove this threat of competition, the Wideners and their associates, the principal investors in the Union Traction Company, organized the Philadelphia Rapid Transit Company to absorb their own company and that of John Mack; they purchased all of the latter's stock and in January 1903, leased the Market Street Elevated Passenger Railway Company for 997 years. Construction was underway by April 1904, and regular service began in March 1907. 1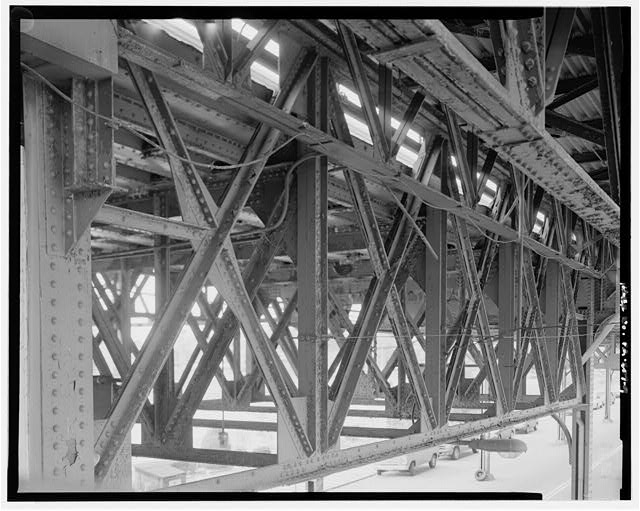 Detail of Pratt and Warren Truss System beneath 56th Street Station. HAER

The stations at 46th, 52nd, 56th, 60th, and 63rd Streets are suspended from the elevated tracks. A departure from the usual American practice, the Market Street "El" had a concrete sub-floor to prevent rain and 'operational fluids' from soiling the roadway below; ties were then laid on rock ballast over the concrete in an attempt to dampen the noise of trains. The support girders were placed using 65-foot cranes travelling on the completed deck, thereby avoiding interruption to the trolley lines below, which continued operations throughout the construction of the Elevated.

The first cars used on the "El" were built in 1906 at the Pressed Steel Car Company shops in Pittsburgh. Subsequent orders were placed over the years with J. G. Brill & Company, a car manufacturer originally based in West Philadelphia. Established in 1868, Brill had 800-900 employees by the turn of the century, and built more than 3,000 cars for the Philadelphia Rapid Transit Company alone. Brill, the largest car builder in the United States, developed the first system of car trucks that were independent of the body in 1888; they manufactured their last car in 1940. 2

A new fleet of 270 cars was purchased from the Budd Company, also of Philadelphia, in 1960. Included in this "first production order of stainless steel rapid transit equipment" were forty-six single units which had a cab at each end, and 112 pairs—all lighter and less costly to operate and maintain than any car previously constructed; the savings over their estimated life of 35 years was originally calculated to be $6.5 million. 3

Update May 2007 (by Harry Kyriakodis):
The Market-Frankford Subway Elevated continues to be the city's busiest transit line. The El observed its centennial in 2007. A celebration on March 4th marked 100 years of service—to the day—between downtown Philadelphia and West Philadelphia.

SEPTA has been undertaking an extensive $1.5 billion revitalization of the entire line for several years. The transit agency rebuilt the Frankford side of the line in the early to mid 1990s, and then began work on the Frankford Transportation Center to replace the original Bridge & Pratt Terminal. The $140 million project included a new train platform and track structure, new bus and trackless trolley berths, and a 1100-car parking garage. Upon the new terminal's completion in 2003, SEPTA restored the historic Bridge Street Terminal and rehabilitated its interior with the installation of escalators and elevators. A pedestrian overpass over Bridge Street was also opened, connecting customers to the main terminal, bus berthing locations, and the parking garage.

SEPTA is currently working on completely rebuilding the remaining Market Street Elevated section in West Philadelphia, including 46th, 52nd, 56th, 60th, 63rd, and Millbourne stations—the 69th Street Terminal was rebuilt in the late 1980s. This project includes demolishing all 11,000 feet of the original two-column elevated structure (dating from 1907) and replacing it with a streamlined single-column configuration that will improve traffic flow on Market Street. The rebuilt stations will be brightly lit, colorful, and fully ADA-accessible. Two new Automatic Train Control buildings were completed in 2001. The cost of this project has ballooned over the years, with a recent estimate being $710 million!

In addition, several stations of the Market Street Subway (2nd, 5th, 8th, 11th, 13th, 15th, 30th, and 34th) have been or are being renovated. The subway also received continuously-welded rail a few years ago, along with Automatic Train Control upgrades. New equipment for the Market-Frankford line started arriving in 1997 when SEPTA purchased 220 new cars at a cost of $1.29 million each. These cars were made by AdTranz, a German company subsequently purchased by Bombardier Transportation of Canada. The air-conditioned cars, designated M-4, were the first new cars for service on the El since 1960.

1 Harold E. Cox, The Road from Upper Darby: The Story of the Market Street Subway-Elevated, (New York, c.1967), pp. 3-5
2 Harold E. Cox, Surface Cars of Philadelphia, 1911-1965, (Forty Fort, PA, c.1965)
3 Cox, The Road from Upper Darby..., p. 36


See also:
Historic American Engineering Record - Market Street Elevated Railway between 69th & 47th Streets.

Workshop of the World - Frankford Elevated