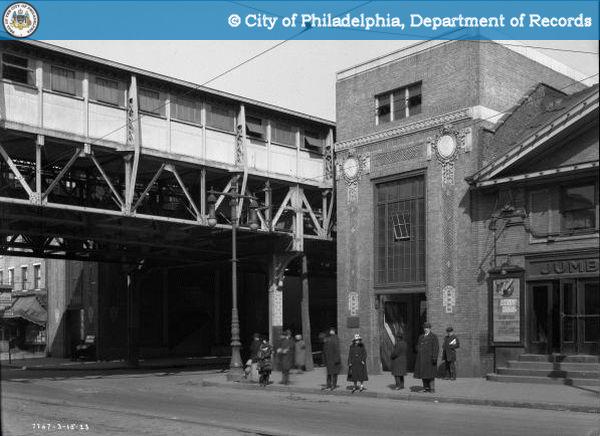 Girard Station, northeast corner Front Street & Girard Avenue, in 1923. Jumbo Theatre is to right.


Frankford Elevated
, 1915

various locations between Old City and Frankford, Philadelphia PA

© Carmen A. Weber, Irving Kosmin, and Muriel Kirkpatrick, Workshop of the World (Oliver Evans Press, 1990).

The Frankford Elevated was begun in 1915 with a scheduled completion date of 1918. It opened in November 1922, its construction cost more than twice the original estimate; both the delay of construction and the rise in cost were attributed to World War I. The "El" proved popular and it drew enough business from the railroad to force the closing of the Frankford Station of the Reading Railroad in June, 1928.

The Frankford El is the northeast extension of the Market-Frankford subway elevated line which runs from center city Philadelphia west to 69th Street in Upper Darby and east to Frankford. The Frankford El exits the subway just north of Vine Street and continues northeasterly through Old City, Northern Liberties, Kensington (including Harrowgate), and ends in Frankford at Bridge-Pratt Terminal.

The heavily traveled El has the highest passenger load of any line in the Philadelphia metropolitan region; its 100,000 daily ridership exceeds that of the entire suburban commuter system. The existing El has three basic structural components: a double column viaduct (84% of the line); a single column viaduct; and three major structures—the Amtrak, Conrail, and Lehigh (Avenue) bridges.

Deterioration of the El has long been observed and studied and as a result the line is being extensively restored. The work involves rebuilding to modern standards 5.25 miles of elevated structure carrying a very old and very active double track railroad system. In addition, the three major bridges are to be rebuilt with plans to replace or to rehabilitate eleven passenger stations.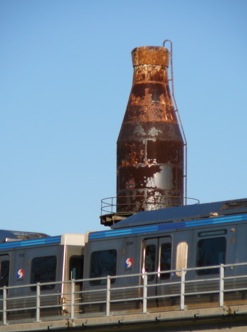 Update May 2007 (by Torben Jenk):
The track and supports have been substantially rebuilt along with most of the stations to comply with modern accessibility standards. The modern aesthetic includes glazed structural tile, woven stainless wire railings, and cast-in place concrete, resembling a prison. Renovated and adapted, only a few original buildings survive at Bridge & Pratt (the former entrance), Oxford Street (electric substation?), and Tioga (a superb work of buff brick laid in Monk Bond with limestone highlights, facing the park to the southeast). Spring Garden Station was modernized earlier (in the 1970s?) while all the other stations above Second Street were built within the last decade, including Girard, Berks, York-Dauphin, Hungdon, Somerset, Kensington & Allegheny, Erie Torresdale, and Church.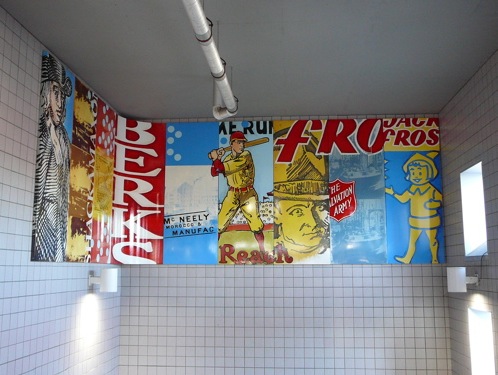 SEPTA has commissioned works for its "Art in Transit" program. Tiled murals are at York-Dauphin and Church. Holographic glass finials rise above the platform at Bridge & Pratt. Artist Jeff Schaller designed, silkscreened, and installed huge panels at Berks Station to share the history of Kensington through images of William Penn, Penn Treaty, McNeely Morocco, Salvation Army, Reach baseballs, Stetson hats, Jack Frost sugar and Cramp Ship.

See also:
Workshop of the World Market-Frankford El.