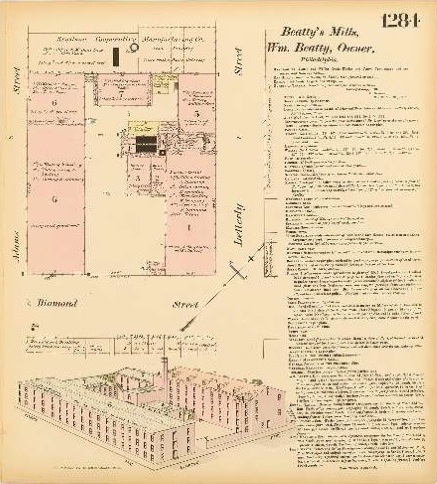 "Beatty's Mills, Wm. Beatty, Owner." (1878), Hexamer #1284.

William Beatty's Mills
, c.1886

Letterly, Hagert, and Coral Streets, Philadelphia PA 19125
© Carmen A. Weber, Irving Kosmin, and Muriel Kirkpatrick, Workshop of the World (Oliver Evans Press, 1990).

William Beatty's Mills began in the 1850s as many textile concerns started in Kensington, in a collection of buildings, some occupied by Beatty, and some by various tenants. William Beatty provided yarn for "outwork" on hand looms located in homes around Kensington. Beatty produced ginghams, diapers, and "miner's flannels," and as many as five different tenants produced a variety of cotton and woolen yarns and goods as well as hosiery goods. 1 By 1878, these concerns employed 146 hands, mainly boys and girls. 2 The mills developed into one concern, the Beatty Mills, operated by Robert Beatty in 1886. The new mills made only cotton yarns; by 1902, the complex was known as the White Cotton Mill. 3 In the early twentieth century, the firm continued to employ around 100 men and women. 4

A complex of buildings, constructed in 1886 to produce cotton yarns, have survived relatively intact. The structure facing Hagert Street is actually two buildings. These five story brick buildings, with their corbelled brick cornice, are echoed by two more five story brick buildings on Letterly Street. The engine room, boiler house, and office sit between these larger buildings with the office facing Diamond Street.

In 1886, the northernmost portions of the larger buildings contained cotton openers and spreaders. The corner buildings held over forty revolving flap cotton cards, eighteen self-acting spinning mules, eight roving frames, four twiners, and two self-acting twiners. The complex operated on a 300 horse power steam engine, three boilers, and a Worthington duplex pump, connected to the city main. 5

1 Edwin T. Freedley, Philadelphia and Its Manufactures, (Philadelphia, 1859), pp. 253, 257
2 Hexamer General Survey #1284 (1878) "Beatty's Mills, Wm. Beatty, Owner."
3 Ernest Hexamer and Sons, Insurance Maps of the City of Philadelphia, Volume 10, (Philadelphia, 1902).
4 Department of Labor and Industry, Pennsylvania, 1916, p. 1191.
5 Hexamer General Survey #2031 (1886) "Beatty's Mills, Estate of Wm. Beatty, Owners."


Update May 2007 (by Torben Jenk):
The building on the northwest corner of Coral and Hagert was converted into twenty-seven live/work spaces for income-qualified artists at a cost of $7.5 million. The building was added to the National Register of Historic Places in 2004, and the renovations were done according to Historic Preservation Guidelines established by the Secretary of the Interior. Restoration work resulted in the building receiving the Grand Jury Award from the Preservation Alliance in 2006. There is a community room and exhibition space on the first floor. Fire damaged other buildings in this complex; they were demolished and a new building was built for the Kensington Culinary Arts High School.