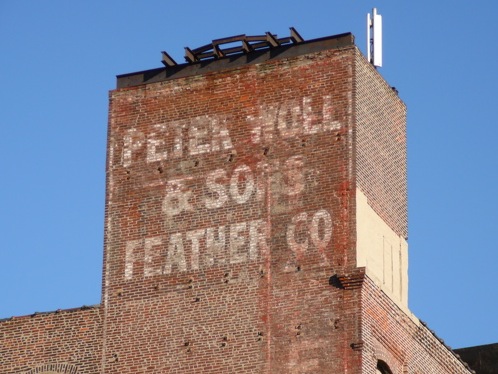 Top of west facade states "PETER WOLL & SONS FEATHER CO" (2007).
Peter Woll & Sons
, c.1891

Berks and Mutter Streets, Philadelphia PA 19122 (between Mascher and Hancock)

© Carmen A. Weber, Irving Kosmin, and Muriel Kirkpatrick, Workshop of the World (Oliver Evans Press, 1990).

From 1880 until the present, this family firm has been engaged in the Curled Hair business and its offshoots, such as feathers. Gopsill's city directory for 1880 listed a number of Wolls, but it is not known if they were the same family. They all lived in West Kensington, but the firm of Frederick and Christian Woll was in Germantown; they were listed as being producers of brush manufacturer's materials. Peter Woll Jr., a bookkeeper, lived with Peter Woll on Howard Street.

An 1888 Baist atlas located an unnamed Hair Factory on the site although there was no building there in 1875. 1 The Woll firm, one of two in the 19th and 31st wards, was mentioned in Blodget's Industrial Survey of 1882 as an employer of 185 persons. 2 Unlike the Woll works, earlier Curled Hair firms also produced glue and Freedley praised the industry saying:

"The refuse and offal from tanneries, morocco factories, and slaughter houses, [are] used by Glue and Curled Hair manufacturers...and without consumption in this way, would be troublesome to remove or prove nuisances to the community." 3

A number of such establishments were located in Kensington, even today there is one at Coral and Hagert. One family name, Delaney, was mentioned as early as 1859, and survived in the area at least until 1916, employing 188 people. 4 Four blocks south of the Woll firm, the Delaney Curled Hair and Glue Works, across the street from Joseph Hacker's Morocco Factory, showed work areas associated with the unpleasant tasks mentioned by Freedley. There were cattle sheds, slaughter houses, lime vats, glue drying on the roof, and separate raw hair and curled hair storage rooms. 5 Some buildings of the Delaney works were built as early as 1844, and they were still on the same location in 1887, 6 making the operation contemporaneous with that of Woll. Today this corner of the street is a public park.

The Woll name is associated from 1891 with the five story brick building with corner towers on the north side of Berks Street. Architectural details on the building appear to make it a twentieth century structure, yet the building outlines and the office on the corner of Berks and Hancock conformed with the 1891 Hexamer insurance map and an advertisement of the firm from circa 1895. 7 By 1891 the firm had expanded, taking over a four story building across Berks Street at the corner of Hancock. In 1916 8 Peter Woll and Son were joined by Woll and Sons, Feather Company at 169 Berks. In 1922, an atlas showed the firm had moved to the corner of Berks and Mascher, half a block east, and they occupied a two story building across the street, surrounded by other businesses. 9 By 1945 their former buildings were occupied by other industries. The 1944 industrial directory shows an F.P. Woll Company in Tacony, still listed today. The larger building became a paper warehouse and today is the Globe Paper Company. The building across the street seems altered with one or more stories removed; there are signs on the Mascher Street side for the Rapid Electric and Penn Scale manufacturing companies; both were listed in the 1944 industrial directory. 10 Woll structures on both sides of Berks Street carry clearly visible painted signs of the family name and occupation.

1 Maps: Baist, 1888; and Hopkins, 1875.
2 Lorin Blodget, Census of Manufactures, (Philadelphia, 1883), p. 78.
3 Edwin T. Freedley, Philadelphia and its Manufactures (Philadelphia, 1858), p. 218.
4 Freedley, p. 218; and Department of Labor and Industry, Pennsylvania, 1916, p. 1218.
5 Baist, 1888; and Hopkins, 1875
6 Hexamer General Survey #1088 (1877) "Delaney & Co's Curled Hair & Glue Works."
Hexamer General Survey #2744 (1894) "Star & Hampden Mills, Arrott Steam Power Mills Co."
7 Philip Scranton, Proprietary Capitalism, p. 400.
8 Department of Labor and Industry, Pennsylvania, 1916, p. 1370.
9 Bromley, 1922.
10 Chamber of Commerce and Board of Trade, Philadelphia, pp. 86, and 98.

Update May 2007 (by Torben Jenk):
Survives.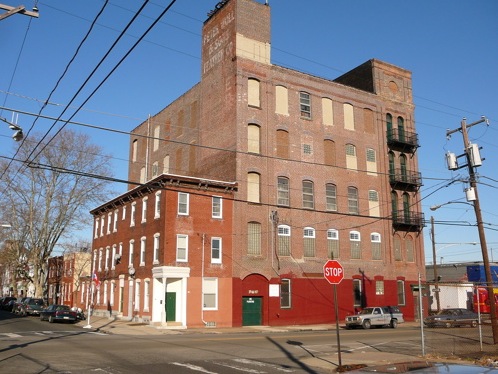 Northeast corner of Hancock and Berks Streets (2007).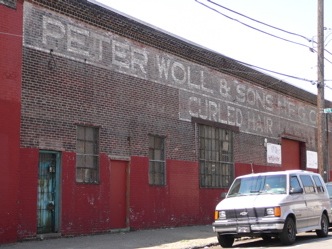 "PETER WOLL & SONS MFG. CO. CURLED HAIR" on building on the south side of Berks Street.