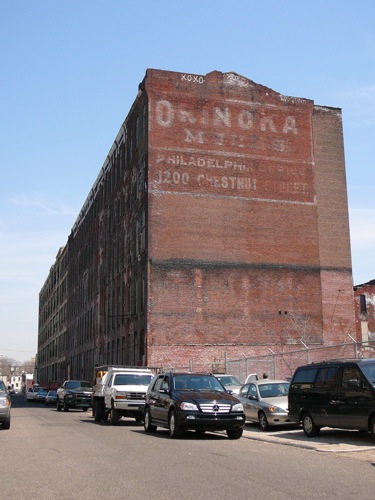 View from southwest (2007).
Orinoka Mills
, c.1890

2753 Ruth Street, Philadelphia PA 19134

© Carmen A. Weber, Irving Kosmin, and Muriel Kirkpatrick, Workshop of the World (Oliver Evans Press, 1990).

This large complex just north of the Reading Railroad tracks in Kensington contains one, two, and three story brick buildings built between 1890 and 1920. The Solomon Brothers began the mills in the 1880s. By the 1890s, the mill contained 85 looms for silk upholstery and curtain materials. 1 Curtain production was abandoned by 1898 to specialize in furniture coverings, with the mills employing 225 workers at that date.

James H. Clarke, a superintendent in the 1890s, became president of the Orinoka Mills in the early twentieth century. By 1913, 300 looms were used to produce silk, wool, worsted, and cotton upholstery. However, by the 1930s the weaving operations were moved to York, Pennsylvania and the South. The company maintained their administrative offices in Kensington, along with two dye houses, finishing, and warehouse facilities. However, by the 1980s, the firm moved to Horsham, Pennsylvania, a Philadelphia suburb, merging with Fangenthal, a Swiss company. Although some small textile and manufacturing concerns still operate in the Orinoka complex, most of the buildings have suffered serious deterioration, losing cornices and other features. 2

1 Hexamer General Survey #2439 (1891) "The Orinoka Mills, (Corporation,) Formerly B.L.Solomon's Sons."
2 Interview with James Arthur, President of Orinoka until January 1, 1989, (1987).


Update May 2007 (by Torben Jenk):
Vacant, in poor and deteriorating condition.