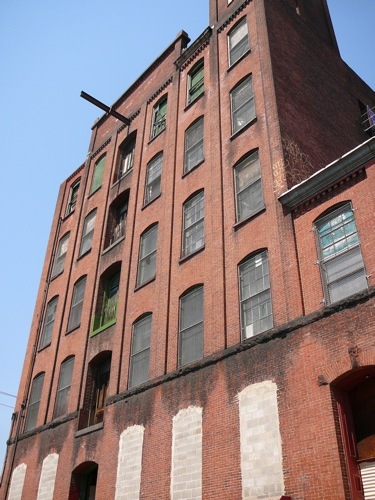 South facade along Indiana Avenue (2007).
Rose Mills
, 1894

3000 C Street, Philadelphia PA 19134
(north side of Indiana Avenue between C Street and Rosehill Street)
© Carmen A. Weber, Irving Kosmin, and Muriel Kirkpatrick, Workshop of the World (Oliver Evans Press, 1990).

Built in 1894 for John G. Carruth and Company as the Endurance Mills, this five story brick building and accompanying complex is still used for textile manufacturing. The Endurance Mills utilized steam power to weave cotton goods in the main building. A two story brick office sat on the east side of the mill; a one story brick engine room with one steam engine, and a boiler house with three boilers were to the rear. 1

Several different textile concerns operated in the mill in the early twentieth century. Eventually the Rose Mills took over the complex, producing specialty yarn for the upholstery and apparel industries. Between 1940 and 1943, employment in the mill jumped from 89 to 256 people. 2 When the Rose Mills went out of business in 1987, Nortex International, Inc. bought the complex. Nortex, based in Springfield, New Jersey, also operates mills in Moorsville, North Carolina and London, England. The firm added "Rose Mills" to their company name and still produce specialty yarns for the upholstery and apparel industries. In addition, the new Research and Development Division of Nortex is based in their Philadelphia mill. 3

1 Hexamer General Survey #2819 (1894) "Endurance Mills, John J. Carruth & Co."
2 Chamber of Commerce and Board of Trade, Philadelphia, p. 43.
3 Conversation with Douglas P. Mosk, Department / Quality Control Manager, (January 12, 1989).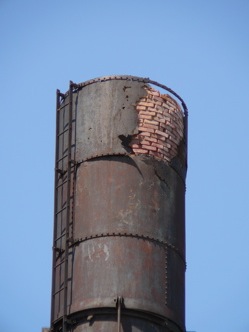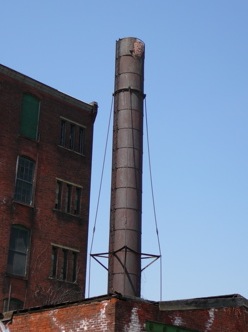 Update May 2007 (by Torben Jenk):
Average condition. First floor window openings have been sealed with concrete block. Many original window sash survive on the upper floors. The chimney is in deteriorating condition with rusting metal plates peeling away near the top, exposing the brick core. Occupied by World Manufacturing, which manufactures advertising display products.