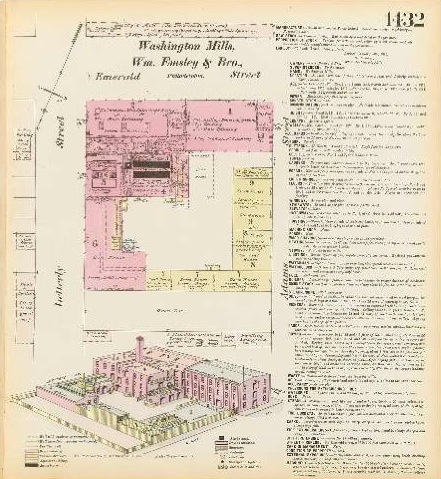 "Washington Mills, Wm. Emsley & Bro." (1880), Hexamer #1432.

William Emsley & Brothers, Washington Mills
, 1866

Northwest corner of East Hagert Street and Emerald Street, Philadelphia PA 19125.

© Carmen A. Weber, Irving Kosmin, and Muriel Kirkpatrick, Workshop of the World (Oliver Evans Press, 1990).

William and Joseph Emsley were English immigrants. Their complex on the northeast corner of East Hagert and Emerald Streets grew between 1866 and 1881, housing various textile firms. For example, in 1876 William and Joseph Emsley produced cotton and woolen yarns whereas the other two tenants in their complex made hosiery. 1 In 1882 The Shepper Brothers manufactured woolen and worsted goods with approximately fifty hands and forty looms, and Craven and Dearnley employed about 120 hands and a variety of spinning and roving frames and picking and carding machines to produce woolen and worsted yarns. 2 The three story brick building on the corner, built in 1867, housed the Emsley Brothers carding, spinning, and reeling machinery. Adjoining this structure to the north, a six story brick building with a corbelled brick and metal cornice was constructed in 1881. A variety of machines and tenants, as well as the Emsley brothers, utilized this structure.

1 Hexamer General Survey #995 (1876) "Washington Mills, Wm. Emsley & Bro."
2 Hexamer General Survey #1637 (1882) "Washington Mills, Wm. Emsley & Bro."


Update May 2007 (by Torben Jenk):
Survives. Now occupied by CAVCO, a manufacturer of vinyl windows and steel doors.


See also:
Hexamer General Survey #1432 (1880) "Washington Mills, Wm. Emsley & Bro."