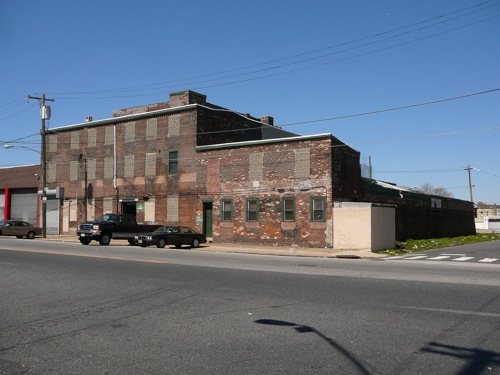 Southern facade along York Street. Built before 1869, the two- and one-story building to the right was used as a Hollow Ware Foundry. The three-story building was built after 1880.
Fox Foundry
, c.1890

2627 York Street, Philadelphia PA 19125
(northwest corner of East Thompson Street, back to East Boston Street)

© Carmen A. Weber, Irving Kosmin, and Muriel Kirkpatrick, Workshop of the World (Oliver Evans Press, 1990).

The small brick buildings on the northwest corner of York and Thompson Streets probably were probably constructed by the A. Hallman Stove Company in the 1890s. 1 However, in 1875 James P. Davis had a hollowware foundry on this site. 2 Samuel Cline operated the Richmond Iron Foundry on the same property in the 1880s, with one cupola and 32 employees. 3 In the twentieth century, the Kappler and Fox Company ran the foundry. 4 The two story brick building on the corner still has a painted sign stating "Fox Foundry" as well as a metal medallion over the door proclaiming "Fox." Metal working industries also once occupied much of the surrounding blocks in the early twentieth century. The large William Cramp and Sons Shipyard had brass foundries to the south and east of the Fox Foundry and one building of the Lowry Top and Body Company (later the Joseph P. Cattie Galvanizing and Tinning Works) still stands on the corner of Letterly and Gaul Streets.

1 Hexamer General Survey #363 (?), "Whiling Manufactory, Hasse & Pratt."
2 G. M. Hopkins, City Atlas of Philadelphia by Wards, (Philadelphia, 1875).
3 Lorin Blodget, Census of Manufactures of Philadelphia (Philadelphia); and, George W. Bromley, Atlas of the City of Philadelphia, (Philadelphia, 1887)
4 George W. Bromley, Atlas of the City of Philadelphia, (Philadelphia, 1910); and, Atlas of the City of Philadelphia (Central), South Street to Lehigh Avenue, (Philadelphia, 1922).


Update May 2007 (by Torben Jenk):
The building survives largely unimproved since foundry operations ceased here in the 1970s. Now run by Jim Medaris and his cousin, the third generation owners who subcontract their foundry operations within the US and overseas. The company continues to sell various plumbing parts, including castings of area drains unique to Philadelphia. Their grandfather worked in the stove business around Second and Race streets in the early 20th century before moving up to York Street. He didn't mark his castings, not wanting to deal with complaints from customers, so their castings remain anonymous unlike the familiar "Adams" and "Creswell."

Bounded by Hagert, Letterly, Gaul and Almond Streets, the former Cattie Galvanizing has been taken over by Voight & Schweitzer who offer an online demonstration of the hot dip galvanizing process.


See also:
Hexamer General Surveys #796 (1874), "Hasse & Pratt's Steam Whiting Works"; "Pratt & McKenzie's Putty Manufactory."
Hexamer General Survey #1409 (1880), "Pratt & MacKenzie's, Standard White Lead, Color & Putty Works"; "Wm. S. Pratt's, Steam Whiting Works."