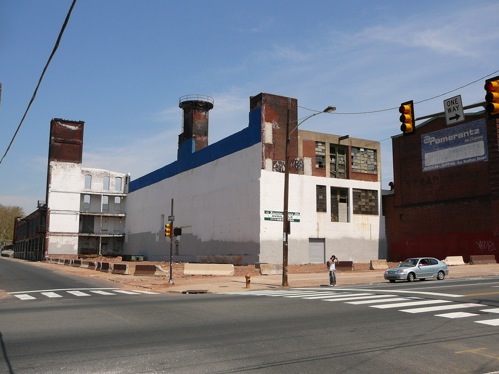 Northeast corner Allegheny Avenue & C Street (2007).
Pennsylvania Woven Carpet Mills
, 1899

401 East Allegheny Avenue, Philadelphia PA 19134

© Carmen A. Weber, Irving Kosmin, and Muriel Kirkpatrick, Workshop of the World (Oliver Evans Press, 1990).

The four story brick building on the corner of East Allegheny Avenue and C Street was occupied in 1899 by Thomas Halton and Sons, who used the first floor as a machine shop. Tenants on the second and third floors produced upholstery goods and hosiery. In 1916, the building was purchased by the Doerr family, who had operated the Philadelphia Carpet Company at their Lower Kensington mill at 5th Street and Columbia Avenue. The company began in 1846 as many Kensington textile concerns started, with Peter Doerr renting handloooms to weavers to use in their homes and providing the wool to make carpets. The first Doerr mill, constructed in 1870, utilized steam powered looms to produce ingrain carpets. The company's move north to the East Allegheny Avenue mill was also duplicated among many other Kensington textile firms. The Philadelphia Carpet Company made narrow and broadloom velvet carpets at the East Allegheny mill.

Whereas the corner building holds offices and looms, another two story brick building connected to the rear in 1899 housed the finishing department. In 1937 a more modern mill was built to the east of the original building. This building housed Wilton looms, capable of making carpet up to 15 feet wide.

The Philadelphia Carpet Company continued operations at Allegheny Avenue and C Street until 1976. During World War II, the company, along with many other textile firms in Kensington, participated in the war effort by producing cotton duck and tarpaulins. In the 1970s several concerns ran the mills, such as Shaw Industries, a local business group. In 1987 Frank J. Pisano refurbished the mill, naming it Pennsylvania Woven Carpet Mills, Inc.

The mill now is one of the largest producers of Wilton carpet in the United States. Custom carpets, in widths of 27 inches to 12 feet, are produced in 100% wool as well as in wool/nylon and acrylic/nylon blends. Customers include airlines, hotels, casinos, restaurants, banks, and many others; a Pennsylvania Woven carpet even sits on the floor of the original Senate Chambers in the U.S. Capitol in Washington, D.C. 1

1 Conversation with Salvatore DeGrazio, Director of Style & Design, and William Schol, Mill Superintendent, (January 12, 1989)


Update May 2007 (by Torben Jenk):
Demolished. Other buildings remain on this block and south across Lehigh Avenue.


See also:
Members Linger at Last Carpet Mill—a Tour of the Pennsylvania Woven Carpet Mills in 1990, Irv Kosmin, (The Wright Stuff, Newsletter of the Oliver Evans Chapter of the Society for Industrial Archeology, January 1991), p.10.