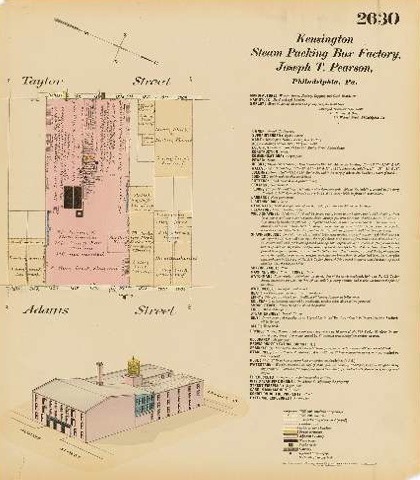 "Kensington Steam Packing Box Factory, Joseph T. Pearson." (1892), Hexamer #2630.

Joseph T. Pearson Steam Packing Box Factory
, 1880

1825 East Boston Street through to 1814-1820 East Hagert Street, Philadelphia PA 19125

© Carmen A. Weber, Irving Kosmin, and Muriel Kirkpatrick, Workshop of the World (Oliver Evans Press, 1990).

Whereas Joseph T. Pearson's factory produced wooden boxes, its other products (hosiery, lapping, and cloth boards) related to the textile trade. Constructed between 1880 and 1892 at 1814-1820 East Hagert Street, one 100 horsepower steam engine operated this small factory. In 1892, ninety male hands were employed making boxes and hosiery boards with a raw stock of lumber and nails. 1 Wood shavings not burned in the factory were sold; the wagon entrance is visible on the Hagert Street side of the building. The three story brick building fronted Boston Street; this part of the complex also housed most of the operation.

1 Hexamer General Survey #2630 (1892) "Kensington Steam Packing Box Factory, Joseph T. Pearson."

Update May 2007 (by Torben Jenk):
Survives. Now used by the Wm. F. Comly & Son auction house, the oldest family owned and operated auction firm in the US. Started in 1834 by Samuel Comly in downtown Philadelphia, the sixth generation now operates the business. One hundred auctions are held each year, here and at remote sites, selling everything from building materials to restaurant and medical equipment, tools, real estate, and whirlpools. Comly also offers appraisal services and advertises that "our 40,000 sf facility accepts daily consignments of assets requiring disposition."