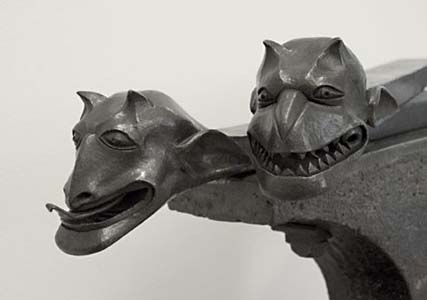 "Magic From Fire: The Artistry of Samuel Yellin."
Angus Everton

Samuel Yellin Metal Works
, 1915

5520 Arch Street, Philadelphia PA 19139

© Preston Thayer and Jed Porter, Workshop of the World (Oliver Evans Press, 1990).

In this workshop, Samuel Yellin, a Polish immigrant who arrived in Philadelphia in 1906, practiced his craft as America's most renowned metalworker. Designed in 1915 by the prestigious firm of Mellor and Meigs of Philadelphia, the shop served as his studio until his death in 1940; presently, it is still operating as a metal working shop and forge; it also houses the Samuel Yellin Foundation. 1 Examples of his work in wrought iron are found on the facade and include the gates as well as the grates over the windows. The interior of the front portion exhibits walls of stucco, beams in the ceiling, and built-in furnishings and contains a collection of his work. In contrast to the appearance of this portion, the rear portion of red brick is more restrained and serves as the workshop itself. 2

The greater size of this workshop (an earlier shop at 409 North Fifth Street was located on a cramped fourth floor) permitted the acceptance of more commissions. By 1920, two hundred laborers were employed with sixty forges in operation, at which time a second building was added adjacent to the first. Subsequently the shop expanded into a third building across North Allison Street. Among the countless pieces produced for residences, banks, and universities were the gate for the Packard Building on Chestnut Street and the door for the Curtis Institute of Music, at Rittenhouse Square and Locust Street. 3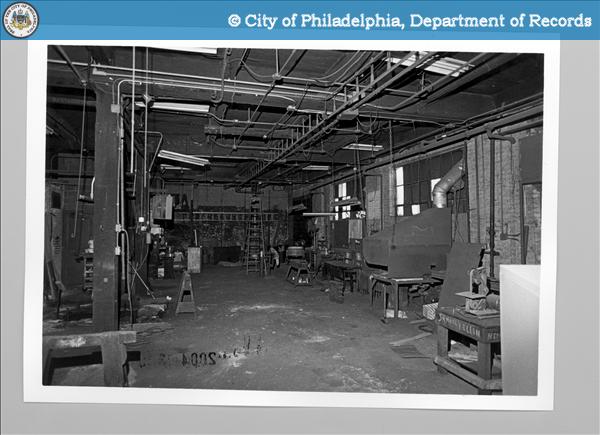 © PhillyHistory.org

Samuel Yellin's Metal Works Shop survives as one of the most intact blacksmithing forges in the world, housing a museum of his work, a library dedicated to the history of the craft, and the tools and drawings used to complete the body of the work during his family's operations.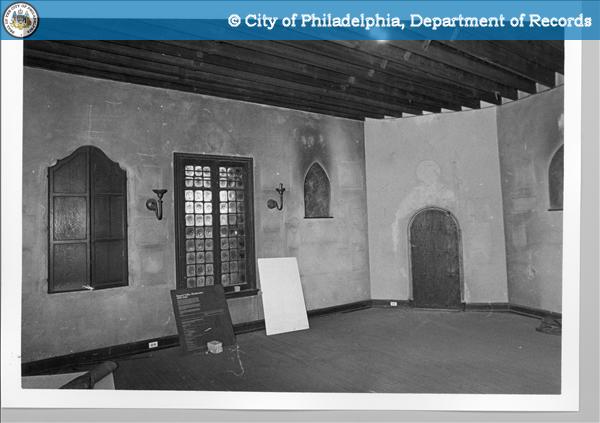 © PhillyHistory.org

1 Jack Andrews, Samuel Yellin, Metalworker (Philadelphia, 1982), pp. 1-3.
2 Randal Baron, "Samuel Yellin Metal Works," West Philadelphia Historic Sites Survey, Philadelphia Historical Commission, (Philadelphia, 30 August 1985), p. 1.
3 Andrews, pp. 2 and 15.


Update May 2007 (by Harry Kyriakodis):
The Yellin shop was demolished sometime after being abandoned in 1993. However, the Yellin Metalworkers Company still exists, currently operated under the direction of Clare Yellin, Samuel Yellin's granddaughter. Now located in Chester County, Pennsylvania, the small firm produces the same quality custom work that the Yellin name has been known for since the early 20th century.