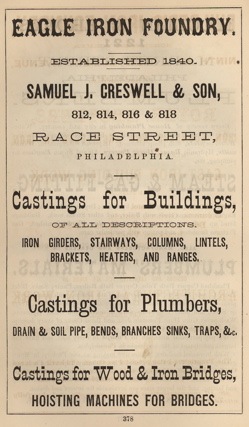 © Edwin T. Freedley,
Philadelphia and its Manufactures
(1867), p. 378.


Cresswell Ironworks
, c.1870

2250 Cherry Street, Philadelphia PA 19102

© Helene Schenck & Michael Parrington, Workshop of the World (Oliver Evans Press, 1990).

The firm of S.J. Cresswell Ironworks began in 1835 and continued in business until 1969. In a Philadelphia city directory of 1849, the firm was listed as a brass and iron founder, and stove maker, at 252 Sassafras (now Race) Street. In subsequent city directories, it moved steadily westward, to 814-16 Race Street in 1860 and 1865, and finally to the 23rd and Cherry location by 1873. (Previously, this location was the site of a tannery and machine shop.) In 1873, the company also still retained the 8th and Race Streets space. In 1883, S.J. Cresswell had two cupola furnaces and employed 85 people, and made architectural ironwork. 1

By 1885, the firm had holdings stretching along 23rd Street from south of Cherry nearly to Race Street. The two cupolas were in a foundry building on the northeast corner of 23rd and Cherry Streets. The machine shop adjoined to the south with the pattern shop on the second floor. A bridge at the second story level linked the foundry proper to the fitting-up shop across Cherry Street. Next to it was a one-story frame shed where the castings were cleaned. Three-story brick workers' houses extended along an alley parallel to and north of Cherry Street.

A new building was added to the complex between the foundry and Race Street in 1939, replacing the workers' houses. It also served as a machine shop. The casting shed burned in 1950, and the firm ceased its casting operations.

Today the former fitting-up shop and cleaning shed on the southeast corner of 23rd and Cherry Streets, and the former machine shop north of the site of the casting shed (now a parking lot) still exist and are offered for rent as office or warehouse space. Manhole covers made by S.J. Cresswell Ironworks can still be seen on the streets all over Center City. 2

1 Lorin Blodget, Census of Manufactures of Philadelphia (Philadelphia,1883) p. 139.
2 McElroy's Philadelphia Directory (see 1849, 1860, and 1865); also, Gopsill's Philadelphia Directory for 1873; and the following maps: Hexamer and Locher 1857, Hexamer General Survey #1952 (1885), "Architectural Iron Works, Sam J. Creswell," Baist 1895, Bromley 1908, and Franklin 1939; also interview between Michael Parrington and Herbert Bernstein on February 3, 1989.

Update May 2007 (by Harry Kyriakodis):
The main building is still standing, but the small machine shop has been demolished for additional parking.