Third Philadelphia Mint
(1901-1969)

Community College of Philadelphia
(1973-)

1700 Spring Garden Street, Philadelphia PA

© Harry Kyriakodis (2007)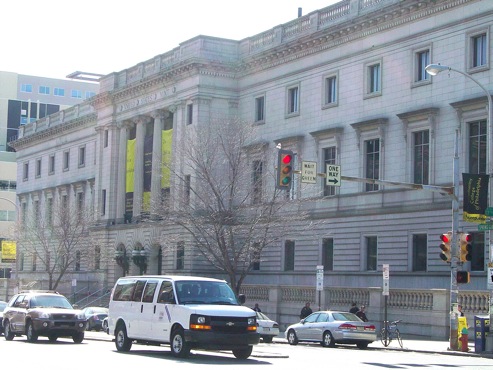 North facade facing Spring Garden Street—almost never sees the sun. Photo © Steven A. Ives (2007).

The nation's first Mint was established in Philadelphia through the efforts of Robert Morris, Thomas Jefferson, and Alexander Hamilton, and formalized by act of Congress on April 2, 1792. David Rittenhouse was the first Director. The original United States Mint stood on the east side of Seventh Street above Market (1792-1833), and was the first federal building erected under the Constitution. From 1833 until 1901, the Mint occupied the present site of the Widener Building at Juniper and Chestnut Streets. In 1801, "An Act concerning the Mint," was approved directing that a federal mint should remain in Philadelphia until March 4th, 1803. A Mint has remained in the city since then and will probably always be in Philadelphia.

This structure was the third U.S. Mint erected in Philadelphia. Built in 1901, this was the finest and best-equipped mint in the world in its day, as well as the largest money manufactory in the world. In one year alone, the Philadelphia Mint made 501,000,000 coins, which was five-sevenths of all the currency minted in this country. In addition, 90,000,000 coins for foreign countries were turned out. The building is a block long and has a Roman temple's facade. Massive Ionic columns lead to a lobby with vaulted ceilings bejeweled with Tiffany glass mosaics depicting ancient Roman methods of coinage. Marble is ubiquitous.

The third Mint was built here because, at the time, the United States Smelting Company was at Broad and Spring Garden Streets, only a block away. And the nearby William Sellers Company supplied the Mint with new machine tools, as did other machine shops in the area. Furthermore, the nearby Reading Railroad City Branch tracks were ideal for receiving supplies and transporting the finished product around the United States.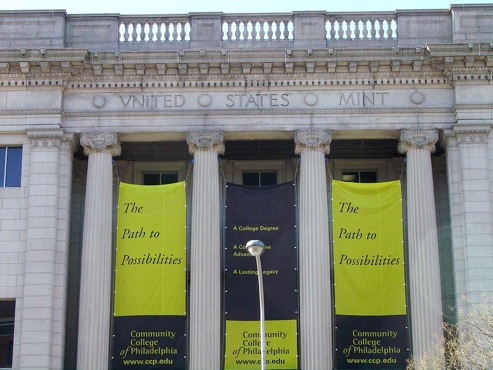 Photo © Steven A. Ives (2007).

The Philadelphia Mint operated here until 1969 when it moved away, just like the other industries in this area. It was acquired by the Community College of Philadelphia in 1973. The present Philadelphia Mint occupies an entire city block at 5th and Arch Streets.