S.S. White Dental Works
, c.1880

12th & Chestnut Streets, 12th & Locust Streets, Philadelphia PA 19107
© Helene Schenck & Michael Parrington, Workshop of the World (Oliver Evans Press, 1990).

In 1844, Samuel White, then 22 years old, began manufacturing artificial teeth at 116 N. Seventh Street, working in an attic over a first floor store.

Up to that time, dentists carved crude teeth from blocks of porcelain . . . Young White strove to make his dental work resemble the original as nearly as possible. His success was accelerated by the accidental discovery of feldspar as a base for porcelain, and within a short time he and two assistants were forced to seek larger quarters. 1

In a Philadelphia city directory for 1865, an ad for Samuel S. White describes the firm as "manufacturers of Porcelain teeth, gold and tin foils, dental instruments, gold and silver plate, operating chairs, corundum wheels, lathes, furnaces, rolling mills, blow pipes." They also apparently published the Dental Cosmos, "A Monthly Record of Dental Science." 2

By 1883, the firm, listed as the S.S. White Manufacturing Co., moved to 12th and Chestnut Streets, and employed 361 people. 3 Here the firm occupied a new building with forges in the basement and on the fourth floor for making the instruments. The fourth floor was also where the hardwood handles of the tools were formed. The ground floor was leased to Baily and Co., jewelers.The White Company expanded into the second location at 12th and Locust Streets (formerly the site of a public school) in the early 20th century. It was then employing 500 workers, who manufactured instruments from amalgams of steel, nickel, and precious metals. 4 Today the building at 12th and Locust Streets houses luxury apartments; the 12th and Chestnut Street building is occupied by retail shops and offices.

1 Federal Writers' Project, Philadelphia: A Guide to the Nation's Birthplace, (Works Progress Administration for Pennsylvania, Harrisburg, 1937), p. 119.
2 McElroy's Philadelphia Directory (1865).
3 Lorin Blodget, Census of Philadelphia Manufactures (Philadelphia, 1883), p. 152.
4 Philip Scranton and Walter Licht, Work Sights: Industrial Philadelphia, 1890-1950, (Philadelphia, 1986), pp. 85-86.

Update May 2007 (by Harry Kyriakodis):
Still standing. The White Building was converted from an apartment house into a condominium in a $7 million renovation completed in 2006.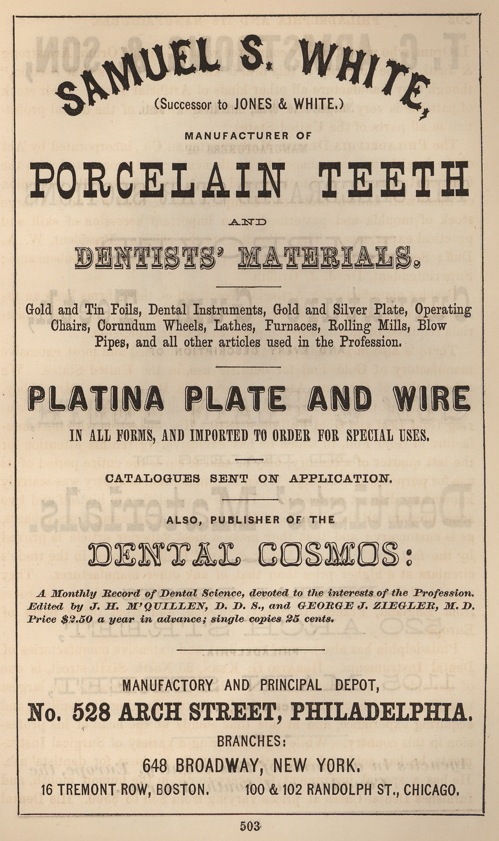 © Edwin T. Freedley, Philadelphia and its Manufactures (1867), p. 503.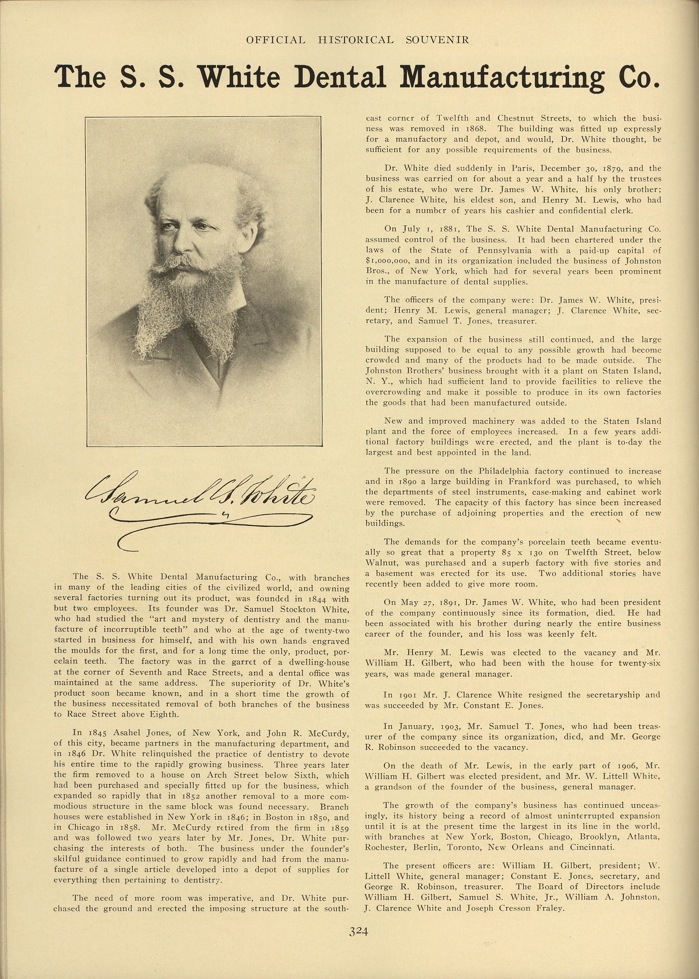 © William Mátos, compiler, Philadelphia, Its Founding and Development, 1683-1908 (Philadelphia, 1908), p. 324.