Reading Company Grain Elevator
(1925-1950s)

Granary
(1976-)

411 North 20th Street, Philadelphia PA
© Harry Kyriakodis (2007)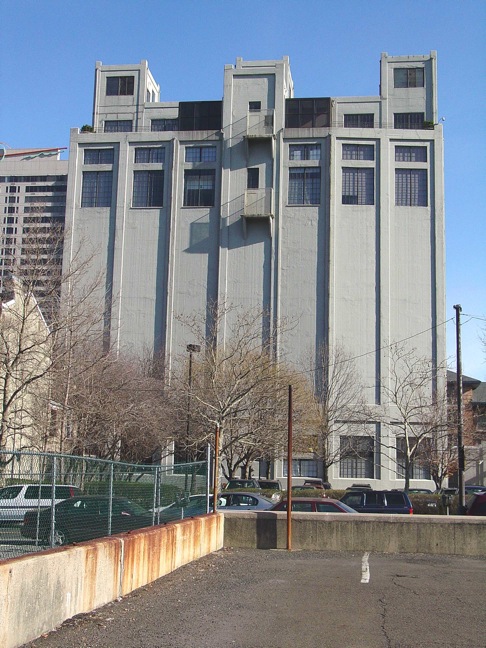 South facade along Callowhill Street. Photo © Steven A. Ives (2007).

Philadelphia was once a distribution center for grain grown in the farmlands of Pennsylvania. For a long time grain elevators were a common sight in the city, but only this one remains. The Reading Company Grain Elevator was built in 1925 on the site of a grain elevator that had been there since the Civil War and which was destroyed in a grain explosion. The hulking grey structure was designed by staff architects of the Reading Railroad and was built using a continuous poured in place concrete process. Grain was delivered by wagon to the entrance then stored in the silos until it was loaded onto trains and taken to the Port Richmond on the Delaware River.

Abandoned in the 1950s, the building was purchased in 1976 by an interior designer, who converted the lower floors into offices. The silos were left untouched, but the machinery towers were transformed into a penthouse apartment (with terraces and a swimming pool), which quickly earned a reputation as a place for lavish parties and the place to be to watch fireworks over the Philadelphia Museum of Art. The place was added to the National Register of Historic Places in 1982. The entire structure was reconfigured into office space in 1986. Known now as "The Granary," it is the local headquarters of the Granary Associates, an international design firm.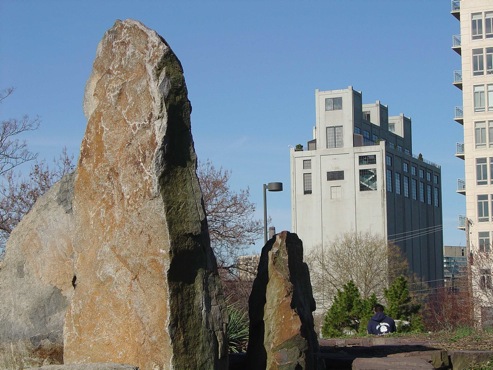 Narrow east facade. North facade in shadow. Photo © Steven A. Ives (2007).