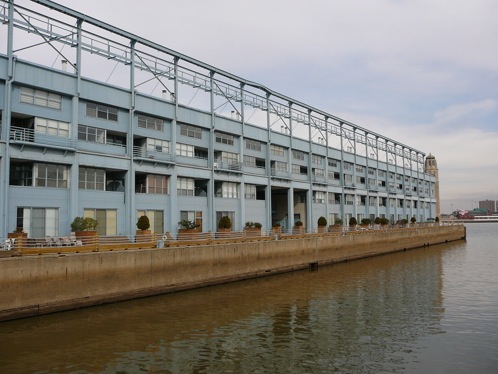 South side of Pier 3 (2007).
Piers 3 & 5 North
(The Girard Group), 1923

3 & 7 North Columbus Boulevard (formerly Delaware Avenue)
,
Philadelphia PA 19106
© Helene Schenck & Michael Parrington, Workshop of the World (Oliver Evans Press, 1990).

The piers were built in 1923 as part of a longrange port improvement scheme initiated in 1907, a scheme which also included the dredging of the Delaware River to a depth of 35 feet from the sea to Allegheny Avenue in Philadelphia, and the building of the Benjamin Franklin Bridge. The present location of the piers is on the approximate site of wharves owned in the early nineteenth century by the French shipping magnate, and later banker and financier, Stephen Girard. The pier complex was intended to serve foreign, intercoastal, coastal, and river trade; when new, the piers were stateoftheart in cargo handling transfer technology. They were said to have transformed Delaware Avenue into the "greatest shipping thoroughfare in the country." 1

The principal features of the Girard Group were the two architecturally embellished reinforced concrete and steel sheds which housed double berth piers. Between the piers as well as to the north of Pier 5, along the Delaware Avenue bulkhead, was a range of sheds and offices, with a continuous streetside loading dock. The north and south walls of each shed were comprised of 21 two story bays; at the apron level of each bay, huge overhead metal doors provided access to and from the first floor interiors of the sheds. Continuous cargo masts with shackles of a capacity of five tons each were strung along the tops of the north and south walls, providing accommodation at each pier for four ships with lengths of up to 500 feet.

The shed interiors were equipped to handle both horizontal and vertical transfer to trucks and trains, with freight car entrances occupying a principal bay at each pier front on Delaware Avenue. The open shed superstructure overall relied on a two story steel frame, set up in four bays and roofed in a Warren truss.

The piers have been rehabbed as apartments.

1 Alice Kent Schooler, John Milner Associates, "Nomination of Piers 3 and 5 to the National Register of Historic Places," 1983.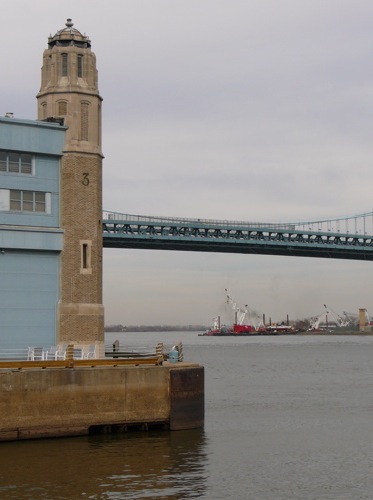 Update May 2007 (by Torben Jenk):
Survives as commercial and residential condominiums with parking and a central atrium, bracketing a marina. The residences are double-stacked along the waterside perimeter, each having two floors (creating four levels where there were two). A restaurant and offices are along the Delaware Avenue side. Boat slips in the marina are usually rented by the season but a few hardy souls live year-round on their boats, weathering the season enroute to the bathroom.