Arctic Cold Storage Co.
, c.1874-1897

1224-1228 Frankford Avenue, Philadelphia PA 19125

© Stuart Paul Dixon, Workshop of the World (Oliver Evans Press, 1990).

The buildings that currently house the Arctic Cold Storage Co., Inc., are the only surviving structures in Fishtown that previously housed a brewery. The brewery began as the three-story four-bay-wide brick building that faces Leopard Street and that now forms the rear wing of the later building that faces Frankford Avenue. Seven stories tall and two bays wide on the ground level, the Frankford Avenue building at one time displayed decorative Italianate motifs. It also had a passageway that extended from its north bay, now filled in, to the Leopard Street building for the use of beer wagons and trucks.

Moritz Ruoff began brewing in the Leopard Street building in 1874. William Heimgartner acquired the brewery in 1889 and by 1896 was producing over 5,000 barrels of beer a year. By 1897, Heimgartner had acquired the Frankford Avenue property and soon erected his seven-story Italianate brew house there. Heimgartner brewed until his death in 1907, the last two years under the name of the "Kensington Brewery." His estate operated the brewery under that name and as the Frankford Avenue Brewery from 1909 to 1910, when the Protobrewing Company bought the business. This firm manufactured malts and liquors and employed 82 men. Protobrewing went bankrupt in 1917, and in 1919, Henry Loeb purchased the properties. For a short time, the buildings functioned as a pickle factory. Since 1925, when the Arctic Cold Storage Co. bought them, the buildings have served as a cold storage facility. An ammonia freezing system was in use until 1984, when a freon system was installed.

Update May 2007 (by Torben Jenk):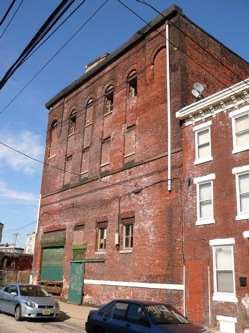 West facade along Leopard Street (2007).

Survives in poor condition. The buildings at 1224-1228 and the lots at 1230-1234 were sold in 2006 for $600,000. There has been talk of demolishing the four-story buildings, which stretch back to Leopard Street. The brick stables seem to survive at 1236 (Old prints show arched openings over the small windows and the large door, but today only the small windows have arched heads. An I-beam caps the large door).