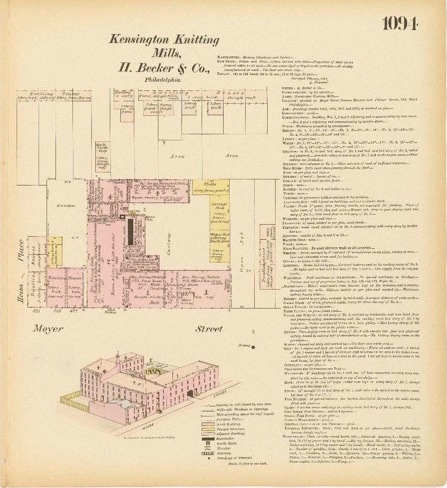 "Keystone Knitting Mills, H. Becker & Co." (1879), Hexamer #1094.

Henry H. Becker Knitting Mill
, 1863-1885

425-447 Moyer Street, Philadelphia PA 19125
© Stuart Paul Dixon, Workshop of the World (Oliver Evans Press, 1990).

The Henry H. Becker Knitting Mill with its owner's and manager's houses stands as an excellent example of the mixed residential and manufacturing neighborhoods that once dominated Fishtown. Forming a C-plan at 425-447 Moyer Street, the mill contains six brick, tin-roofed buildings whose construction periods range from 1863 to 1885. All the buildings currently have four stories; the oldest buildings originally had three stories but were raised a story in 1879.

The southeast, or front, elevation facing Moyer Street contains three brick mill buildings that include the oldest and the youngest structures in the complex. The four bays at 429-431 Moyer, which date from 1863, have experienced extensive reworking. 1 An original hoisting bay extending from the ground level to the upper story has been replaced with windows. The 10-bay-wide portion at 433-445 Moyer, where painted brick proclaims "National Fiberstok Envelope Co.," was constructed in 1871. A door in the west end is a recent addition, while a loading dock blocks a cartway that once led to an interior courtyard. An original entrance door immediately east of the cartway currently contains a window. The two-bay-wide building at 447 Moyer Street was constructed in 1885 and has had a window enlarged into a loading dock. Two four-story buildings parallel to Moyer Street join the 429-431 Moyer Street mill to the north and form the upper portion of the C plan. Two other four-story boiler and engine houses are entered from the interior courtyard.

The former owner's and manager's houses at 425 and 427 Moyer Street have had modern stone veneer applied to the first stories. The three-story two-bay-wide dwelling at 425 Moyer has had other extensive modifications. A two-story brick and frame addition joins the building to the rear, forming an ell plan. The two-story, two-bay structure at 427 Moyer is constructed of brick and frame.

Set in the midst of a primarily residential area, the Becker mill was built in the last half of the nineteenth century and architecturally portrays the growth of the textile industry in Philadelphia. Similar to the process described in Philip Scranton's Proprietary Capitalism, Henry Becker's enterprise illustrates the accumulation of capital, entrance into small, often familial, partnerships, and a resulting increased investment in physical plant and machinery that allowed textile craftsmen like Becker, to become factory owners. 2 This kind of transformation is also revealed in deed transactions and other city records concerning Becker.

An 1850 street directory lists Becker as a weaver, but in 1855, he is listed as a hosiery manufacturer. In 1857, Becker purchased two lots along Moyer Street where he soon built a three-story brick factory, four bays wide. In 1865, Becker and his partner Justus Koch purchased five lots contiguous to the factory, and by 1873, they had constructed two four-story wings connected to the rear of the original factory, and a three-story, ten-bay factory parallel to Moyer Street attached to the main facade. Known as the Kensington Knitting Mills under the ownership of Henry H. Becker & Co., the factories produced hosiery and jackets made of cotton worked with wool. Using one 80 h.p. steam engine Becker ran six wool cards with 2,240 spindles and four self-actors. Among the power knitters were 128 circular heads and 16 rib-top frames, heelers, and sleevers. Power machinery included 12 jacket and glove frames and 40 sewing machines. Becker's weekly production consisted of 4,500 dozen hosiery, 200 dozen fancy knit articles, 450 dozen jackets, and assorted wool and cotton hosiery, fancy woolens, and wool jackets. 3

According to Proprietary Capitalism, nineteenth-century manufacturers commonly retired after attaining a "competency," a tactic Becker used when he sold his interest in Justus Koch & Co., the successor of Henry Becker & Co., to his son Henry H. Becker. Directories of the 1890s list the elder Becker as "gentleman." In 1907, Henry H. Becker sold the Kensington Knitting Mills to Henry P. Orlemann, who continued to produce hosiery until 1912, when the Colonial Preserve Company converted the mill to a cannery. In 1916, Colonial Preserve employed 55 men and women in the manufacture of canned and preserved goods. More recent owners have been an envelope manufacturer and a chemical processor.

1 Although Becker purchased these properties in 1857, Hexamer General Surveys state that the building was constructed in 1863. See:
Hexamer General Survey #565 (1877) "Keystone Knitting Mills, H. Becker & Co."
Hexamer General Survey #1094 (1877) "Keystone Knitting Mills, H. Becker & Co."
Hexamer General Survey #2066 (1887) "Keystone Knitting Mills, Justus Koch & Co."
2 Philip Scranton, Proprietary Capitalism: The Textile Manufacture at Philadelphia, 1800-1885, (Philadelphia, 1983).
3 Lorin Blodget, Census of Philadelphia Manufactures (Philadelphia, 1880), pp. 3, 51.


Update May 2007 (by Torben Jenk):
Demolished.