Martin Landenberger Hosiery Mill Complex
, 1851-c.1920

Morse Elevator Works
, c.1899-c.1910

1045-1055 and 1101-1103 Frankford Avenue
1105, 1107-1109, 1111-1119, 1121-1127 Frankford Avenue
1045-1049 Sarah Street
1100-1110 Shackamaxon Street
121-131 Wildey Street, Philadelphia PA 19125

© Stuart Paul Dixon, Workshop of the World (Oliver Evans Press, 1990).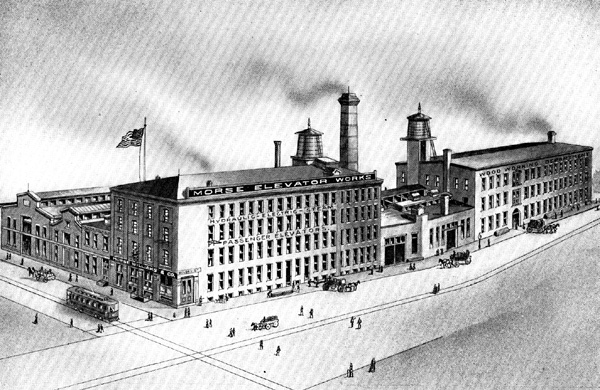 image adapted from Moses King

The industrial buildings located along the corners of Frankford Avenue, Wildey, Sarah, and Shackamaxon Streets form the earliest, extant, coherent industrial complex in Fishtown. Associated with hosiery manufacture and elevator construction, these buildings physically document Fishtown's rich and diverse industrial history. Built between 1851 and c.1920, the Martin Landenberger Hosiery Mill consists of two brick buildings straddling two corners of Frankford Avenue's intersection with Wildey Street, at 1045-1055 and 1101-1103 Frankford Avenue. The Morse Elevator Works, consisting of eight brick buildings located at 1101-1103, 1105, 1107-1109, 1111-1119, and 1121-1127 Frankford Avenue, 1045-1049 Sarah Street, 1100-1110 Shackamaxon Street, and 121-131 Wildey Street, chronicles Philadelphia's association with a series of elevator manufacturers who participated in a nationwide marketplace. Most of the buildings in the Morse complex, which includes one of the earlier Landenberger buildings, were erected between 1899 and circa 1910.

The oldest structure in the Landenberger complex stands at 1101-1103 Frankford Avenue on the northeast corner of Frankford and Wildey and exhibits two periods of construction. Four bays wide along Frankford Avenue and twenty bays deep, the mill stands four stories tall with basement. The easternmost ten bays along Wildey contain the earliest portion of the mill. Erected in 1851, this half has a small gable-roofed cupola capping the eastern half of the flat, tin-sheathed roof. Fenestration displays Italianate stylistic arrangements; first-story window bays are vertically longer than the upper-story windows.

Italianate forms continue on the other ten bays along Wildey Street. This half of the building dates from 1856, the second period of construction. It has an elaborate cast iron front on the ground level of its Frankford Avenue elevation, and, like the earlier section, it is four stories with a basement and stuccoed white. The building's cast iron front has been painted with a cementitious green paint to give the appearance of stone. Three thin pilasters flanked by wider pilasters and topped by acanthus leaf and floral capitals support an entablature and cornice over the first-story bays. Letters forming "MARTIN LANDENBERGER" are still dimly visible in the frieze of the entablature. The upper stories exhibit windows of varying height, echoing the Italianate fenestration of the first period building.

Embedded in a second-story brickfilled bay of the earlier portion of the building are the ends of iron beams and an iron lintel. These pieces were part of an enclosed bridge that crossed above Wildey Street and joined this building to the one at 1045-1055 Frankford Avenue on the southeast corner of Frankford Avenue and Wildey Street. The latter building, made of brick, is ten bays wide along Frankford Avenue and twelve bays deep on Wildey Street. This four story with basement brick building exhibits three distinct periods of construction, only one of which relates to the Landenberger Mill. The earliest portion of the building, constructed in 1871, encompasses the five northernmost bays along Frankford Avenue and stretches the full twelve bays along Wildey Street. The newest section of this building, erected circa 1920, consists of the four southernmost bays along Frankford Avenue. The remaining bay on Frankford Avenue was constructed in 1881 as a cartway and stairway house, and was originally one bay deep. It was expanded to the full twelve-bay depth about 1920, when the latest section was added. The original arched cartway entrance on the ground level has been reworked and now includes modern glass doors.

Four buildings fronting on Frankford Avenue, all built circa 1899, comprise the most intact portion of the former elevator works constructed by Morse, Williams & Co. A two-story-with-basement, three-bay-wide, flat-roofed brick office building with sandstone sills and water table stands at 1105 Frankford Avenue. The buildings at 1107-1109, 1111-1119, and 1121-1127 Frankford all possess two stories, monitored gables on their west elevations facing Frankford Avenue, and stone water tables and sills. The building at 1107-1109 Frankford has three bays across its main elevation; a central hoisting bay with double doors is flanked by windows on both the first story and the second. The building at 1111-1119 mirrors the one at 1107-1109 in many respects, although taller and five bays wide. A date stone in the peak of the monitor gable reads "1899." A stone stringcourse caps the first-story bays of the three buildings at 1105, 1107-1109, and 1111-1119 Frankford Avenue and visually ties them together. The fourth building, at 1121-1127 Frankford Avenue, displays features similar to 1111-1119 Frankford, although slightly taller and wider.

The building at 1100-1110 Shackamaxon Street was also erected circa 1899 by Morse and contains two periods of construction. The three-story, gable-roofed brick structure is twelve bays deep along Wildey Street and ten bays wide along its primary elevation on Shackamaxon Street. The shed-roofed, northernmost three bays along Shackamaxon Street are a later addition. The ghost of letters spelling "Morse Elevator Works" can be seen in the peak of the gable that faces Shackamaxon.

The two-story, eight-bay-wide brick building at 121-131 Wildey Street dates to about 1899. Originally one story high, this structure received its second story after Otis Elevator acquired the Morse Works in 1902. Two attached one-story, gable-roofed machine shops erected after 1910 stand at 1045-1049 Sarah Street, on the southeast corner of Wildey and Sarah.

In 1844, "stocking maker" Martin Landenberger employed twelve hands in either a shop at his residence on St. John Street near Green Street or as a tenant in a local mill. An 1850 manufacturing census identified Landenberger as a hosiery manufacturer in the Northern Liberties, west of Fishtown, where he employed twenty five men and one hundred women in the production of $45,000 worth of hand-knit hose. The erection of his first mill at 1101-1103 Frankford Avenue the next year exemplifies the accumulation and reinvestment of private capital that led to business expansion—a phenomenon typical of successful industries in Fishtown and Philadelphia during the nineteenth century.

Concentrating on the manufacture of woolen hosiery, Landenberger by 1856 had expanded his operation, erecting the 10 westernmost bays of 1101-1103 Frankford Avenue. Edwin Freedley, who chronicled Philadelphia's industries in 1859, tells us that Landenberger's mill was the only large factory in Philadelphia to produce hosiery, opera hoods, comforters, shawls, and scarfs. Freedley ends his description of the mill by stating, "For cleanliness and good arrangement, Mr. Landenberger's Kensington Woolen Hosiery manufactory cannot be exceeded, and a visit to it is a bona fide entertainment." 1 By 1860 Landenberger had a 12 h.p. steam engine running 124 knitting machines and 22 sewing machines. Hosiery, hoods, and scarfs worth $275,000 were produced by 130 men and 300 women.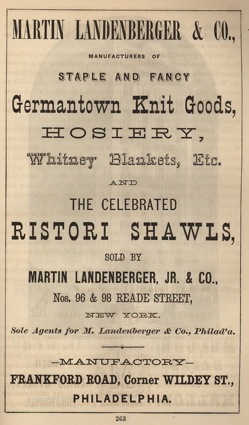 © Edwin T. Freedley, Philadelphia and its Manufactures (1867), p. 378.

Landenberger's hosiery and blankets found a swelling market during the Civil War, as orders for the Union army spurred sales. Landenberger continued expanding after the war, increasing production and constructing part of the mill at 1045-1055 Frankford Avenue in 1871. By 1874, Landenberger employed 500 workers of predominantly English and German heritage and processed over 250,000 pounds of American wool annually. A 15 h.p. steam engine drove a wool-scouring machine, a picker, 10 twisting machines with 400 spindles, a spinning department consisting of eight mules with 2,560 spindles, and 15 power looms. Much of the machinery was fabricated in the factory.

In 1880, according to Lorin Blodget, Landenberger's mill had two steam engines producing 160 horse power; 12 carding machines with 5,800 spindles; 185 power knitters consisting of 150 circular heads, 15 Balmorals, and 20 rib-top frames, heelers, and sleevers; 115 broad frames, 40 sewing machines, 209 power weaver looms, and 155 knitting frames. This machinery was used in the production of 4,500 dozen hosiery and 4,000 dozen fancy articles, hoods, shawls, cardigans, and scarfs per week, as well as in the production of wool yarns and worsted shawls and dress goods. 2

In 1882, Landenberger sold the properties but remained as the new owners' agent and tenant at 1101-1103 Frankford Avenue. In an 1883 industrial census, Landenberger is listed as employing 330 people in the manufacture of knit shawls, dress goods, and worsteds. Hodgkin and Co. also rented space in the original Landenberger mill and employed one hundred people in the production of cotton and woolen hosiery. In 1886, the Morse, Williams & Co., elevator manufacturers, acquired the mill building at 1101-1103 Frankford Avenue.

Landenberger sold the building across Wildey Street, at 1045-1055 Frankford Avenue, to C. A. Thudium & Son, manufacturers of cardigan jackets and knit goods. The building then became known as the Oxford Knitting Mill. Thudium & Son leased space to the firm of Ledger and Ogden, which produced worsted yarn with three combs and employed seventy two workers. The building continued as a knitting mill under the ownership of William Barges in the early 1900s. In 1919, Jacob Bloom purchased it and commenced making bamboo novelties and furniture. After the Alpha Shirt Company acquired the mill in 1977, it was once again used as a textile mill.

In 1884, Stephen Morse, Carlton Williams, and Edwin Morse, partners in the Clem & Morse Co., purchased the former Landenberger buildings that stretched between Frankford Avenue and Shackamaxon Street along Wildey Street. These buildings included the former hosiery mill at 1101-1103 Frankford Avenue. The three men then formed the Morse, Williams & Co. in 1886, and began producing passenger and freight elevators. Using six of the eight floors in the former hosiery mill buildings, the Morse Elevator Works constructed steam, belt, and hand powered elevators with automatic hatch doors and gates. One 23 h.p. steam engine and one 15 h.p. steam engine powered woodworking machinery, including a planer, a joiner, a mortising machine, a circular saw, and a lathe. Fifty-eight men and twelve boys fashioned white pine and metal castings into the various models of elevators. Tenants in the building at this time included A. J. Reach & Co., manufacturer of baseballs and sporting goods, and the Standard Gas Light Company, which produced gas fixtures.

According to an 1891 album, Philadelphia and Popular Philadelphians, Morse became the world's leading producer of freight elevators, "their specialties in the way of automatic hatch doors, excellent safety devices and the Albro-hindley screw having made an unusually high demand for their freight elevators in all classes of buildings." The Morse Elevator Works, "favorably situated for shipping by both rail and water routes together with their unsurpassed facilities for turning out work, added to the general advantages of Philadelphia as a manufacturing city, has enabled them to build up their widely extended trade notwithstanding the strong competition met from local manufacturers throughout the country." 3

In spite of a court ruling in 1892 declaring senior partner Stephen Morse a lunatic, Morse, Williams & Co. continued to expand during the 1890s. Its exhibit at the Chicago Columbian Exposition in 1893 won a prize medal. The company employed approximately 175 men and divided its buildings into space for offices, and machinery, blacksmithing, and woodworking departments. It opened branch offices in Boston, Allegheny City, Scranton, Chicago, New York, Cincinnati, and Baltimore. A special feature of a Morse-built elevator included the "improved Hindley worm gearing [manufactured on site], which obviates, by increasing the bearing surface of the gear, the danger of breakage." 4 Morse embarked on an ambitious building program in the late 1890s to meet the increasing demand for its electric and hydraulic high-speed passenger elevators. The buildings at 1105, 1107-1109, 1111-1119, and 1121-1127 Frankford Avenue, 1100-1106 Shackamaxon Street, and 121-131 Wildey Street stand as evidence of this building expansion. By 1901 the firm had moved its main office to the West End Trust Building in center city Philadelphia and had opened new branches in New Haven, Pittsburgh, and Atlanta. Over fifteen thousand Morse elevators were in service at that time.

The Otis Elevator Company, after purchasing Morse, Williams & Co. in 1902, proceeded to purchase property on the corner of Wildey and Sarah Streets. On this land Otis erected the two metalworking shops at 1045-1049 Sarah Street. A three-bay wing attached to the north side of the building at 1100-1106 Shackamaxon Street gave the building at 1100-1110 Shackamaxon its present appearance. A 1916 industrial census describes the Otis Elevator Company as employing ninety men and women in the production of elevators and hoists at 1105 Frankford Avenue. At the same address, the Hindley Gear Co. fabricated machinery and parts; it employed four men and one woman. Otis sold the properties in 1943. Guilbert, Inc., acquired most of the former Morse buildings in 1949 and produced elevators and dumbwaiters. Guilbert's successor, the American Sterilizer Company, sold the buildings to the Montgomery Elevator Company in 1976. Montgomery continued Fishtown's association with the manufacture of elevators until 1987. Today, the former Morse Elevator Works houses a machine works, a warehouse for ice cream equipment, another warehouse for construction equipment, and a sanitary-clothing manufacturer.

1 Edwin T. Freedley, Philadelphia and Its Manufactures, (Philadelphia, 1859), p. 243.
2 Lorin Blodget, Census of Philadelphia Manufactures (Philadelphia, 1880), pp. 22, 25.
3 Philadelphia and Popular Philadelphians, (Philadelphia, 1891), p. 120.
4 Frank H. Taylor, editor, The City of Philadelphia as it Appears in the Year 1894 (Philadelphia, 1894), p. 233.



Update May 2007 (by Torben Jenk):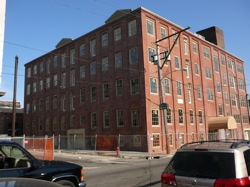 1039-1055 Frankford Avenue (southeast corner of Wildey Street, formerly Bedford): Conversion to residential use is underway, although the work has been stalled for months. The exterior brick has been cleaned and pointed, and new windows were installed. The original building, built in 1871 and 1882, is closest to the corner (Hexamer #871-871). Bromley Atlases shows the "Oxford Knitting Mills" (1895, plate 13) and "Cedar Chest Fact." (1922, plate 10). A carved marble plaque on the Frankford Avenue facade is severely weathered, but seems to read "JACOB BLOO..." [probably Jacob Bloom Co.].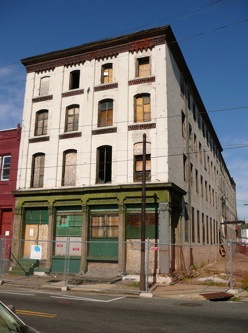 1101-1103 Frankford Avenue (northeast corner of Wildey, formerly Bedford): This building sits vacant and is deteriorating. Charming Italianate proportions and details remain, including the window sash, brick dentils under the third and fourth floor window sills, and the corbelled brick cornice capped with wood. The cast iron columns along the first floor were covered in "sand paint" to evoke masonry. Unfortunately, most of the brick was covered with a thin white stucco wash, perhaps as a waterproofer. A small marble sign inset on the corner reads, "BEDFORD," the former street name for Wildey. Purchased in 2004 for $525,000 and now wrapped in construction fencing, the building will probably be converted to residences.

121-131 East Wildey Street (north side, between Frankford and Shackamaxon, where block bends):Occupied by Philadelphia Vending Company, which builds and repairs food vending carts, a common site around local universities and designated street corners with their "quilted stainless" sides. Quilting adds diamond shaped creases in the polished stainless.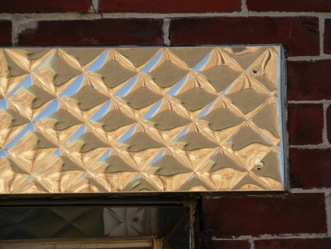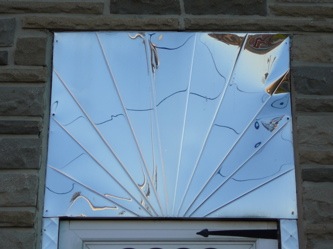 This durable material is also found throughout Fishtown covering window heads, trim, and sills. Semicircular transoms sometimes feature a "star burst." Cast concrete floors and joists are visible through the workshop doors.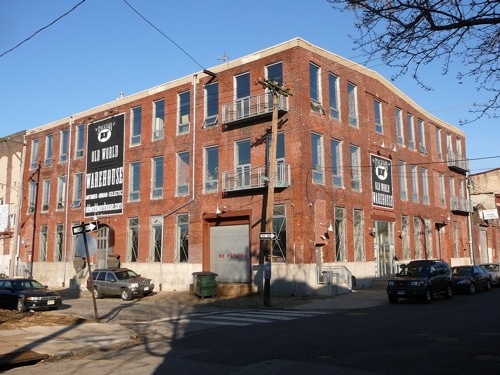 1100-1106 Shackamaxon Street: Converted around 2004 into twelve apartments atop first floor commercial space (one business sells salvaged "architectural antiques"). Marketed with huge painted signs proclaiming "Old World Warehouse" and "Stockyard" (with a steer with a '$' brand!), the more careful observer will see 'MORSE ELEVATOR WORKS' spelled in brick in the shallow pediment atop the Shackamaxon Street side.

1108-1110 Shackamaxon Street: Recently used as a marble cutting and finishing shop (for kitchen counters). Now vacant.

1045-1049 Sarah Street (southeast corner of Wildey): Used as a restoration workshop by Sky Top Rover, an enthusiast of classic British Army surplus Land Rovers and other British vehicles of that era—the original Mini, the Morris Minor, and Bedford Ambulances. The vehicles provide a contrast to the real estate speculators who arrive on the block in their Ferraris waving pinky rings. This block of Wildey retains its cobblestone paving.

See also:
Hexamer General Survey #98 (1866), "Martin Landenberger's Hosiery Factory."
Hexamer General Survey #781-782 (1874), "Martin Landenberger & Co., Hosiery Factory."
Hexamer General Survey #1619 (1882), "Landenberger's Mill, Thos A. Bond, Owner."
Hexamer General Survey #2016 (1886), "Morse Elevator Works, Morse, Williams & Co."