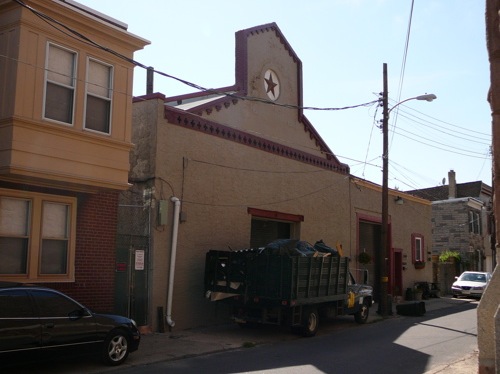 William White Smelting Works
, c.1881

1506-1514 Wilt Street, Philadelphia PA 19125
© Stuart Paul Dixon, Workshop of the World (Oliver Evans Press, 1990).

The William White Smelting Works is representative of the nineteenth-century industries that dotted Fishtown's residential neighborhoods. The smelting works consists of two one-story buildings. Both originally had monitored-gable ends facing Wilt Street. The north building has had its monitor roof removed and currently has a flat roof. The first stories of both buildings have been stuccoed. The monitor gable of the south shop features a corbeled cornice, a louvered oriel window centrally placed in the monitor, and whitewashed brick. The sidelights of the monitor have been covered with asphalt shingles and tar paper. Five bays on the northwest elevation have been filled in with cinder block. A square draft stack rises from the rear southeast corner of the buildings.

William H. White purchased the Wilt Street lots in 1881. An 1880 industrial census lists the "White Bros." as a brass founder. A 1916 industrial census describes the "White & Bro. Smelting and Refining Company" employing sixty-three people, many in facilities on Richmond and Hedley Streets northeast of Fishtown. White refined metals in the Wilt Street shops until 1926, when the property passed to his heirs. In 1950, the Enterprise Metal Company acquired the buildings to store scrap metal.

Update May 2007 (by Torben Jenk):
Stucco covers the brick below the charming decorative brick pediment. Large steel roll down doors fill the two large openings. The small door to the west and a window with a window box suggest this has been converted partially for residential use, the rest being for the owner's contracting business.